Music - Overview & History
My #1 greatest passion in life
Music in many ways has been a dominating influence my whole life – especially as a kid growing up in the 1960s and 70s.
Piano, Piano, Piano
Mom and Dad put us all through the standard Royal Conservatory of Music (RCM) piano courses beginning when we entered grade school and they kept me at it until I reached the grade nine music exam levels in grade 7, including the required music theory course materials. I played in recitals every two to three months or so, and I also entered formal music competitions. By the time we entered high school we were focusing almost exclusively on our 'second' instruments – in my case the French horn – that I took up when I was ten years old.
All 3 Spratt children posing in from of our piano in the living room: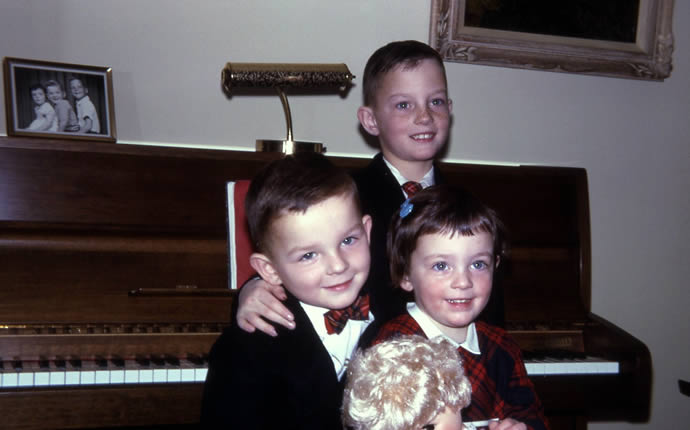 Practicing my RCM pieces while my older brother Douglas looks on: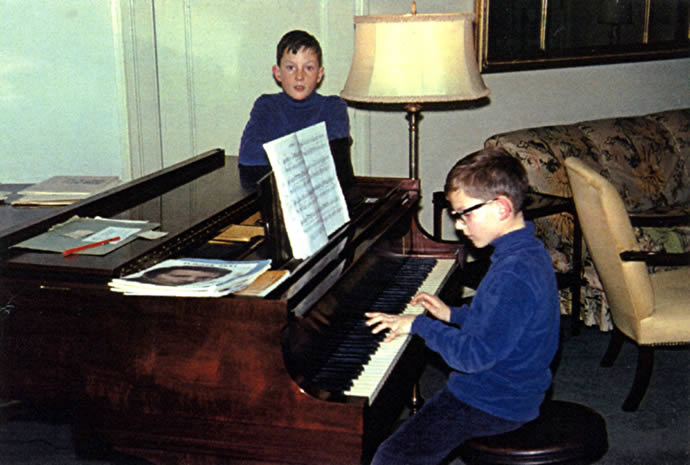 Some of my RCM results after all of that practice and study: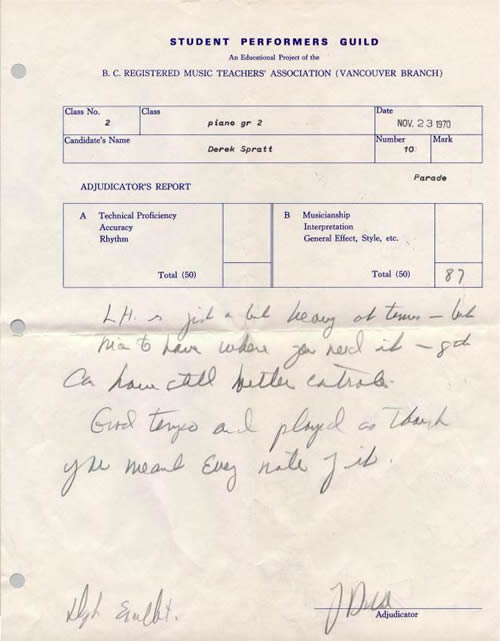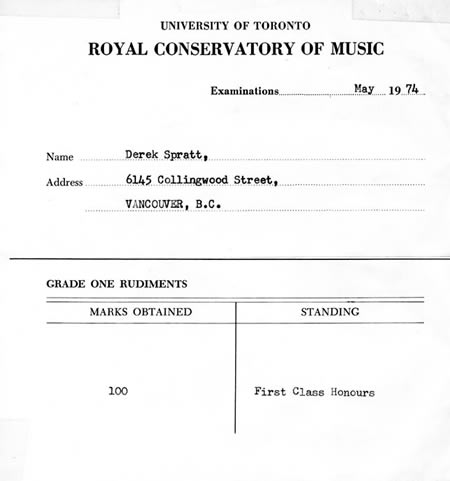 One of Miss Annette Coats' music recitals (with her on piano and the rest of the Spratt family on various brass instruments):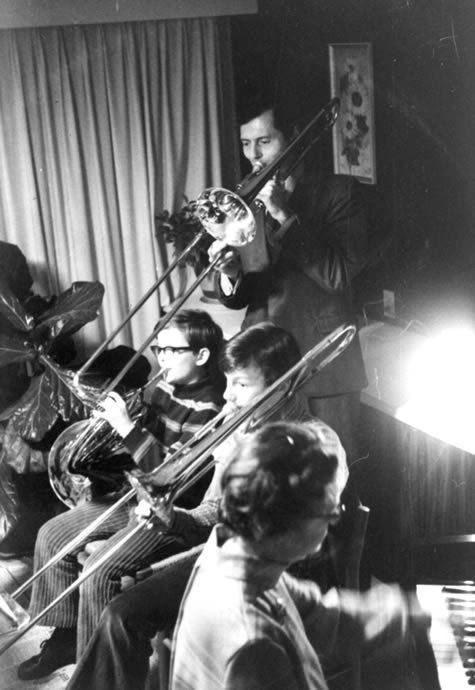 Point Grey High School - Our Dixieland & Jazz Bands
I don't remember having much fun during the early years of piano lessons and being forced to put up with daily music practice until I reached the grade five or six level piano music exams. After that, I could pick up popular sheet music and play for my own enjoyment and that of my friends. When I was able to sit down and play my own musical pieces and other people responded with enthusiasm, I was hooked. By the time I reached high school, I was finished with both formal piano music training as well as lessons with my dedicated old teacher, Miss Annette Coats (who didn't care much for popular music). By that time, I was actively playing the piano in the school Dixieland and Jazz bands.
This opened up a whole new musical vista for me because the quality of the musicianship with the other students I was playing with had also become correspondingly high. Fortunately, I was able to play with students who eventually went on to become professional musicians. They were:
Perry White (sax) in our Dixieland and Jazz bands, is now a highly regarded Jazz musician in Montreal and Europe (Perry's brother Mike is also a professional musician in Toronto);

Phil Comparelli (Trumpet, Guitar), also in our Dixieland and Jazz bands, was one of the lead musicians in the rock band 54-40 for many years;

Ian Putz (Sax), from our Dixieland and Stage bands, runs the Jones Boys dance band at Harrison Hot Springs; and

Paul Airey (piano), from our Dixieland and Stage bands is now a professional musician, composer and film scorer.

Roy Hudson, our one and only Band teacher

Roy Hudson:
Our Dixieland band playing at the opening ceremonies for the False Creek (south) development project - 1975: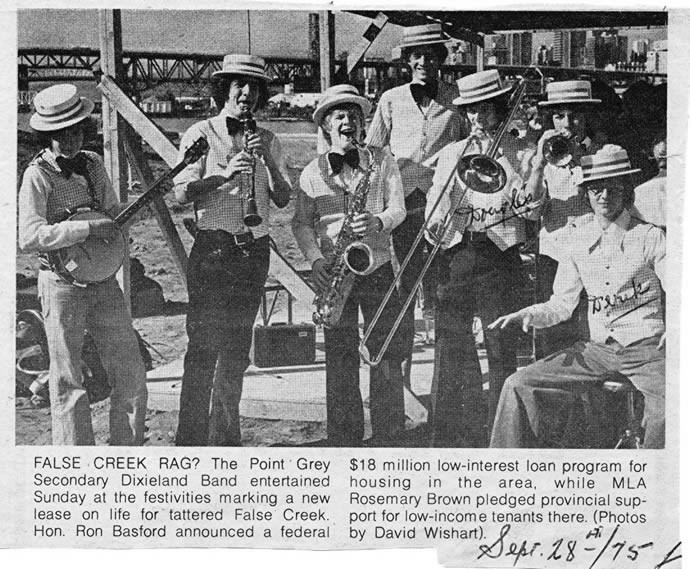 My brother and his fellow musician friends on stage at Pt Grey - 1975 (I am hiding in the back at the far right):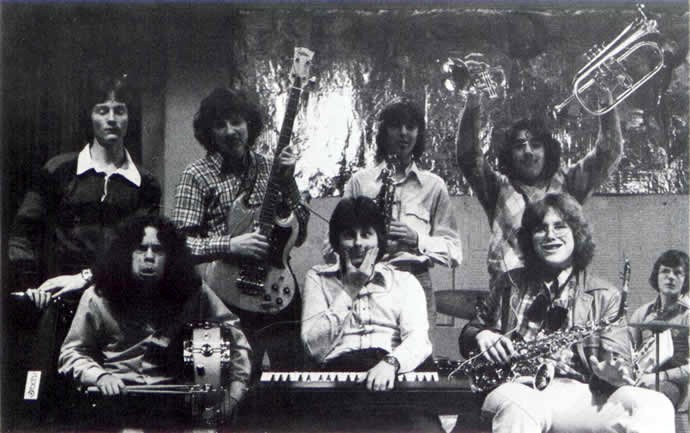 Our Dixieland band having some fun (as always) in the school gym - 1976: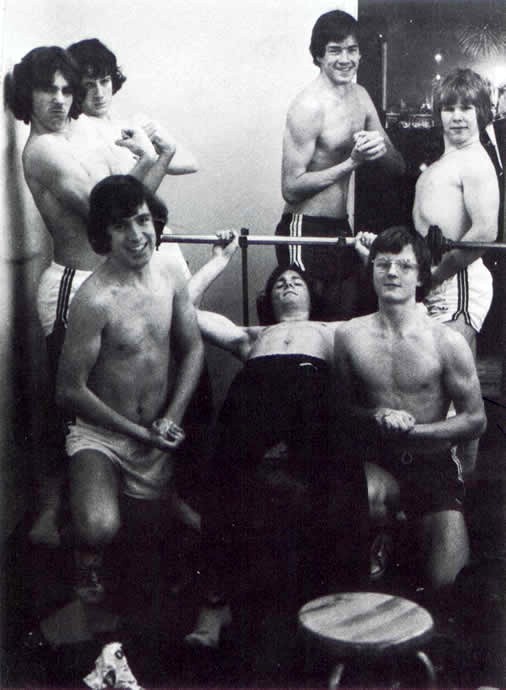 Playing on stage at Pt. Grey - 1977: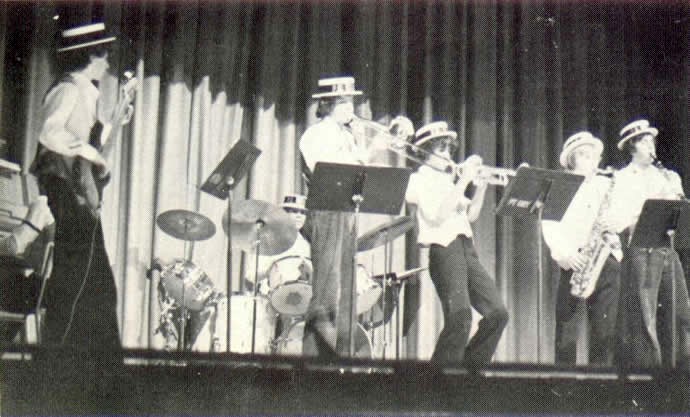 Hamming it up again for the school Annual photo - 1978: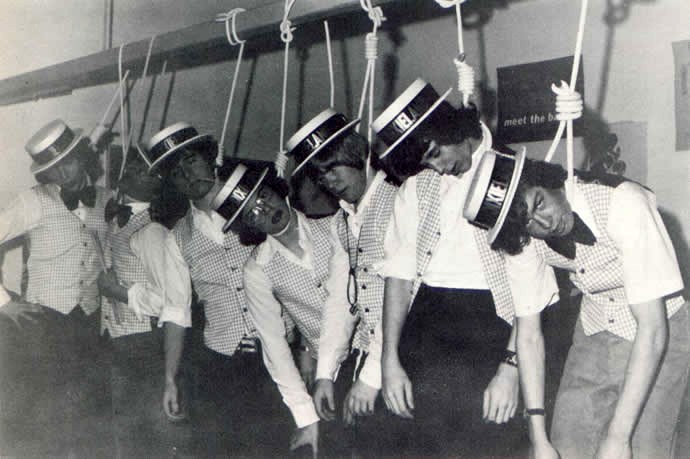 Our Jazz band, on the roof of the school - 1979: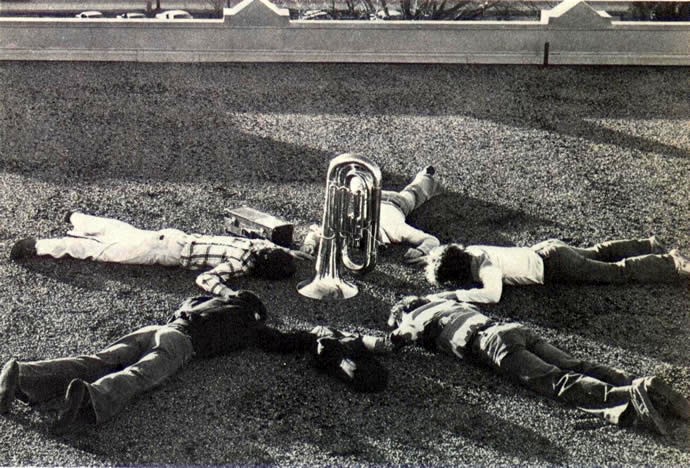 Myself, Phil Comparelli, top row; Roger Nay, Brian Redman, Perry White, lower row - 1979: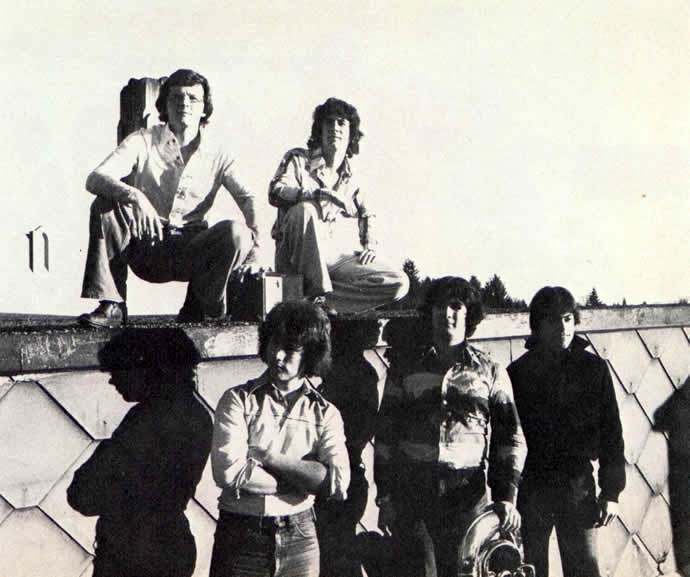 The Pt. Grey Christmas musical concert - 1978: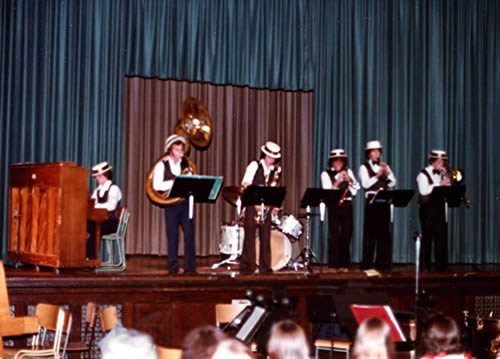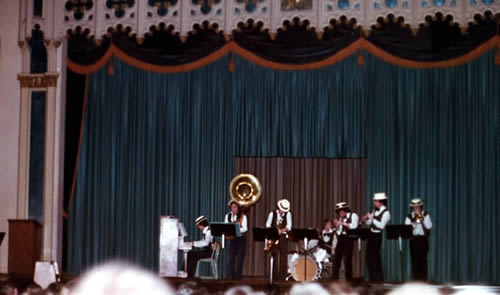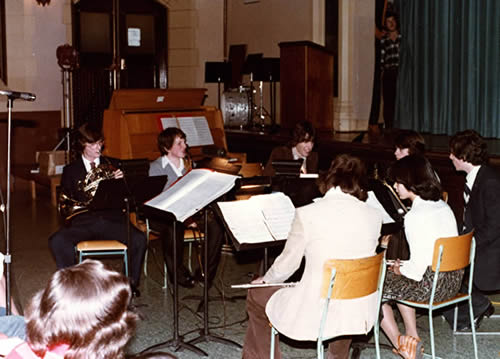 Vancouver Courier Article on our Jazz band – May 10, 1978: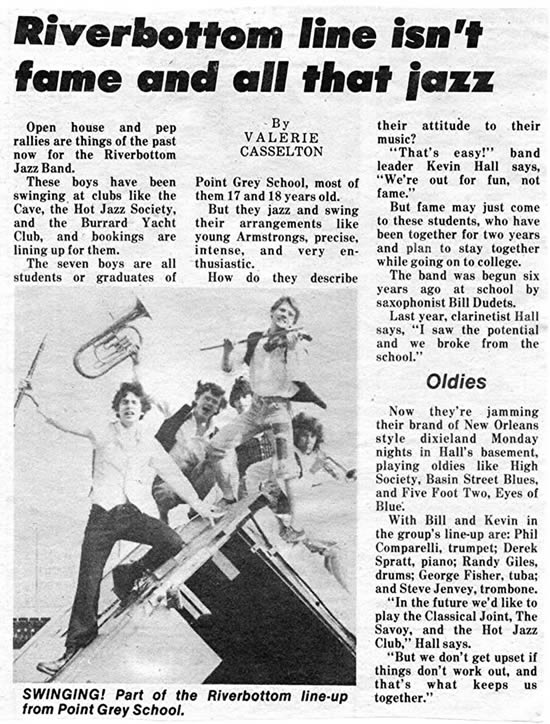 Our Dixieland band business cards - 1977/78: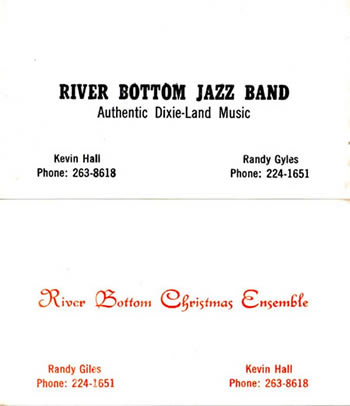 In addition to playing Dixieland and Jazz concerts in and around Pt Grey Highschool, our bands played widely in the local community, both for fun and profit. We played at dozens of political and charity events, at local clubs, for private dances, you name it. We even got served alcohol at many licensed events (something that wouldn't happen these days). At school we played for sports pep rallies too and at Christmas time we would hire ourselves out to play at the local malls.
Our Dixieland band song sheet for a typical evening event – 1978/79: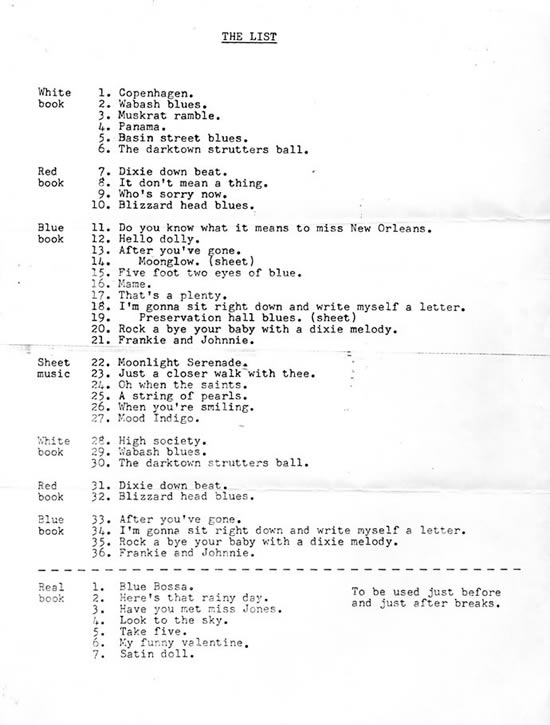 Our Dixieland Band's press coverage in the Hot Jazz Society's monthly rag - 1979: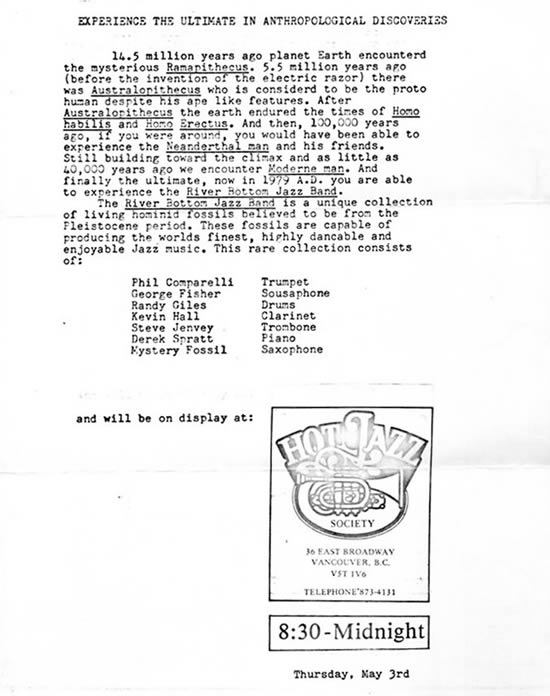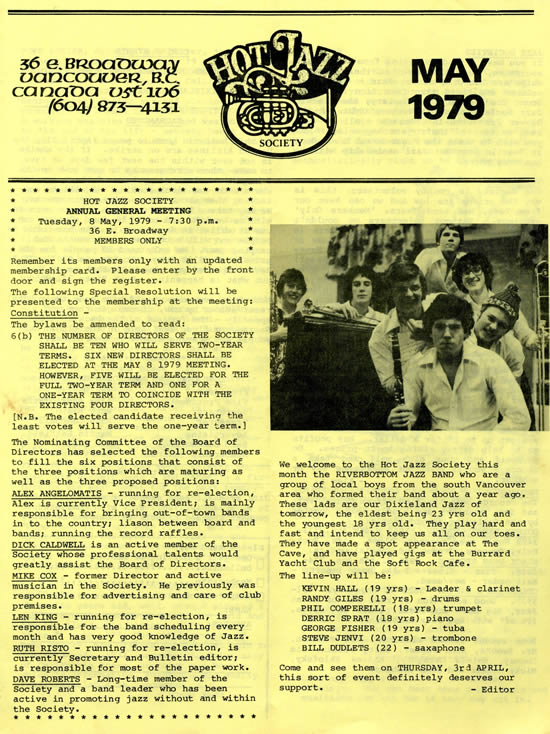 Click here to read the complete Hot Jazz Society brochure from May 1979
Photos from our Hot Jazz Society Performance: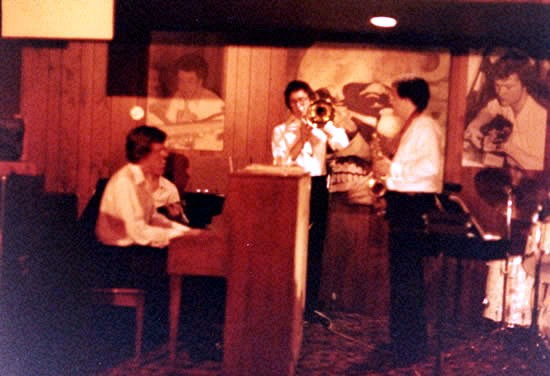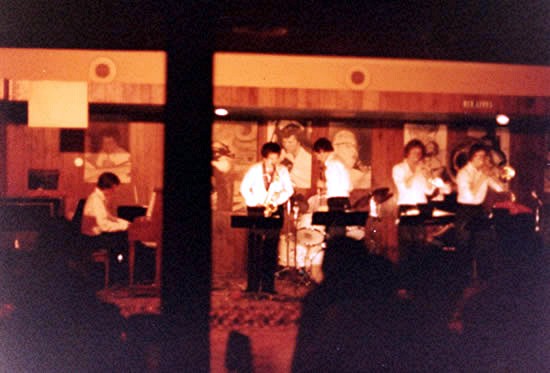 The Point Grey Green Room Gang
My brother Douglas was also very fortunate to play with some very musically inclined friends. Douglas played the Trombone and adored the band 'Chicago Transit Authority' (later renamed 'Chicago') which featured a mix of hard rock guitar and brass players. Eventually Douglas joined a band in high school that practiced weekly in our basement rec room and played all of the popular 'Chicago' tunes. Peter Carson played guitar and piano in that band. He was the son of Mrs. Carson, the Kerrisdale School music teacher, and ended up playing the piano at our wedding reception years later. He was a very talented musician. Others in the band included Rob Ferguson on drums (again, one of the best drummers I have ever heard), David Bailey on keyboards, and Peter St Louis on guitar. (also see my web page: Pt Grey Green Room Gang Reunion Project)
The primary members of the 'Green Room' gang (plus myself and Bill Dudlets - not shown) 1973-1977 (my apologies to those people who I may have missed from this era):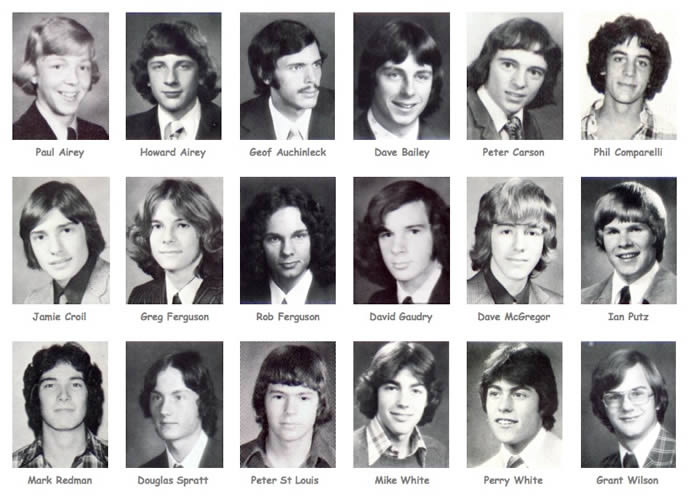 Peter St. Louis was a quiet and very likeable boy who lived just a few blocks from 41st Avenue and Dunbar Street. He was tragically killed in an automobile accident when a bus ran a red light and broad sided the van he was riding in. I heard he smacked his head on the front windows frame and died as he lay on the sidewalk. His mother, who had run up the street when people called for her to come to the scene of the accident, was by his side when he died. Peter was one of two top academic students at Point Grey in grade eleven and the whole school turned out for his funeral held at St. Mary's Church (at 37th Avenue and Larch Street) on that warm sunny spring day so long ago.
Douglas' other good friend Grant Wilson was also a great guitarist and was the only other boy in grade eleven topping of the honour role list along with Peter St Louis (their names are still on the walls of Point Grey for the 1975 honour roll year). Physically, Grant was also very strong – even though he was short and skinny. He could beat anyone he came across in an arm wrestling competition.
I liked Grant because he was also interested in electronics and ended up going to Queen's with Douglas and rooming with him as he toiled over his Electrical Engineering degree. During high school, Peter Frampton ('Frampton comes alive') was at the top of the FM radio charts. Grant built an identical 'effects' box in Mr. Pottinger's electronics lab so he could play the same songs on his guitar in the high school auditorium – using a speaker from his guitar amp that fed into a large funnel, which in turn was attached to a small hose that Grant placed into his mouth to sing into the microphone with – "Do you feel like we do?"
Grant called me a shortly after he graduated from Queen's, and asked about Douglas and whether I had any jobs leads in Vancouver for him. Two weeks after that call he was killed in a power boating accident – they were out on a lake after dark going really fast when they hit a bridge piling, whereupon Grant flew out and hit his head.
Grant and Peter were friends in high school and shared some common interests and friends. They both died before either one of them reached adulthood. It is true that only the good die young.
Destroying Perry White's Saxophones
By the time I reached grade eleven it was clear that Perry White was going to break free from the rest of his musical friends and become a truly great jazz musician (that's not really a fair statement because Phil has also done really well in music). He was keen on jazz and encouraged the rest of us to play more and more of it during school concerts as well as independently in the community. We even entered a number of Jazz band competitions together. Perry and I even photocopied my ratty old jazz standards book that I still play from (the 'real book') one night at Dad's office.
One evening, I invited everyone in the Jazz band to my house for a practice session on the grand piano in our living room. We were going to record the session and wanted a really nice sounding piano. Afterwards, I drove everyone home in Dad's 300D Benz. When we arrived at Perry's house with Phil in the passenger seat, Perry jumped out, popped open the trunk, removed his two saxophones and music stand and placed them on the curb. He closed the trunk and I put the car in reverse and promptly drove over both of his instruments.
It's hard for anyone, even a dedicated young musician that I was becoming, to understand the panic and extreme emotional reaction that I caused Perry at that moment. Immediately after the "thump', Perry screamed, fell to the ground and rolled around on the grass, clutching his face and howling like someone in his family had just been killed. It took his parents and all of us more than an hour to calm him down. Those instruments were his family, his life, and he had a deeply personal relationship with them. In a matter of seconds (by his way of thinking) I had destroyed his ability to make music.
We tried and tried to find replacement saxophones for Perry, but it was clear that he was always going to long after the ones I flattened under the wheels of the car that night. Here I was the musical friend and fellow band member who caused it all. I still cringe when I think about that night with Phil, Perry and I together on his front lawn, crying like babies, arms locked around each other. It was real.
1960s and 70s Musical Culture
Long before all of this transpired, Douglas had turned our basement rec room into a sort of shrine to the Beatles and Chicago after he brought home some of their albums (which I also listened to intently) and had hung their posters on the walls. It soon became our music listening room. Douglas would listen to Frank Zappa and the "Apostrophe" album – first heard on CKLG FM (99.3 MHz on the FM dial which has now been re-named CFOX) which, in 1970, was the brand new 'all album rock' sister station to CKLG AM (730KHz on the AM dial).
Like everyone else, I always listened to the AM radio. Douglas, my cool and well-informed older brother, told me to "get hip" and listen to album rock like Pink Floyd and Led Zeppelin on the FM dial. It was Douglas that turned me on to all of these great bands. He went even further by winning a phone-in contest with LG FM that resulted in five new albums from various artists – such as ZZ Top – joining our growing record collection (Click here to read about and listen to the music that inspired me during this era).
Along with Douglas, and his Chicago cover band and his cool musical friends (including Jim Littleford who is an ace Trumpeter) who came over to our home all of the time, I was lucky to accompany my parents and Douglas to two excellent rock concerts while still in elementary school – Chicago and Elton John. People were smoking pot all around us (someone passed us a joint and said "this is for Myrna" [my mom's name] – honest). Dad came armed with his Nikon camera complete with new 210mm telephoto lens through which he managed to shoot pictures which I kept below . . .
Elton John's October 14, 1974 Yellow Brick Road Concert - Pacific Coliseum, Vancouver: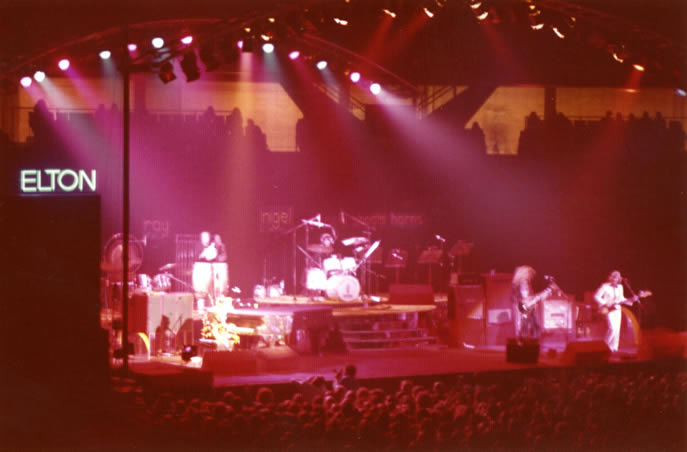 This concert set list with Muscle Shoals Horns was captured live at Madison Square Garden on Nov 28, 1974 (with John Lennon as a guest) on the German LP pressing 'Elton John Band featuring John Lennon and the Muscle Shoals Horns', Cat # 0064.230 - it's amazing to have this recording!
In 1967 when we still owned the upstairs combination stereo, Mom and Dad purchased the Beatles new Sergeant Peppers Lonely Hearts Club Band album. It was also the first album we played on the new stereo that they bought for us and installed in our rec room. That stereo – and Douglas's more mature listening influences – started me on my journey as a life long audiophile and music listening junky (Click here to read about our/my various stereo systems over the years).
My French Horn
My parents never went half way with anything relating to schooling, musical education or training. When I was in grade five, my parents presented me with a very expensive French horn (a Conn 8D which I still own) and lessons from Mr. Robert (Bob) Creech – the principal horn player for the Vancouver Symphony Orchestra (VSO) at the time (see his bio below). He later became the musical director of the Vancouver Community College (VCC) and then the director of Western's School of Music.
Posing with my new Conn 8D French Horn at age 11 - 1973: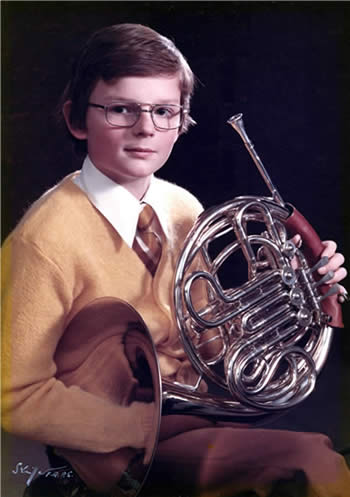 Our Kerrisdale Elementary School grade 7 musical concert - 1974 (Andrew Brown - Viola, and Moyra Van Nus - Harp, are professional musicians today):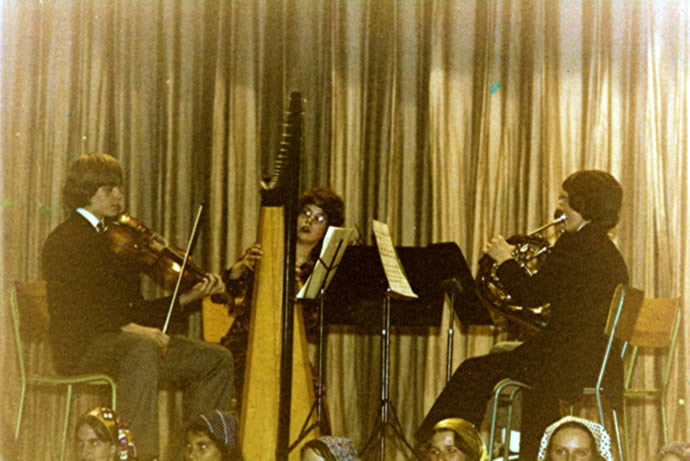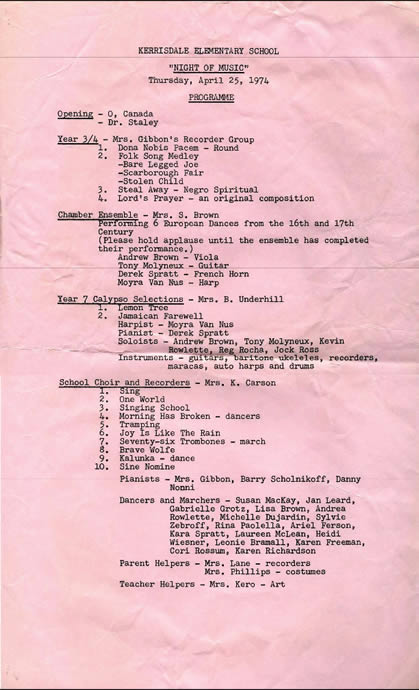 Click here for a hi res view of this program
I clearly remember my first music lesson with Bob Creech. He placed a sheet of music in front of me and I hummed it to him without playing it. He tested my hearing and told my parents that I had the unusual gift of 'perfect pitch' and that he didn't normally take such young students on, but that he would make an exception this one time.
True to form, Bob put me in with his other horn students from the UBC School of Music and signed me up for a two-week trip to Courtney Youth Music Camp (CYMC) that he was founding director of. I was also enrolled in the Vancouver Youth Orchestra, alongside Douglas with his Trombone, and later, Kara on the Viola. At one point or another we all went to CYMC. In my particular case, I went every year up until the end of high school.
One of our Vancouver Youth Orchestra - Senior Division concerts- 1978: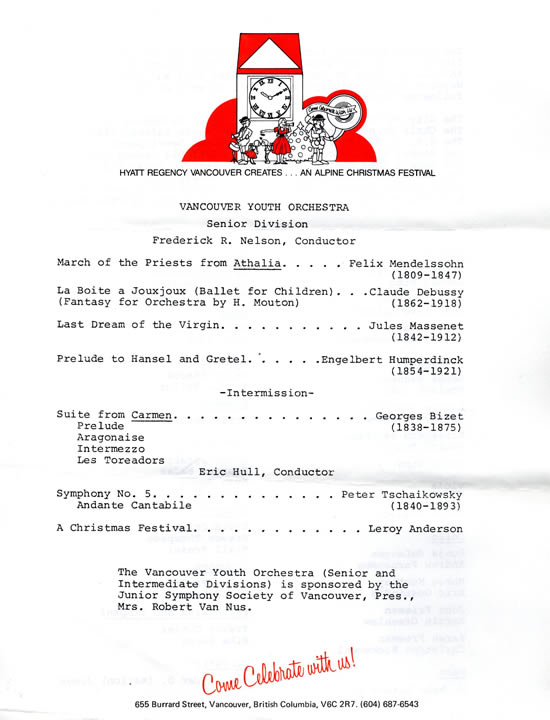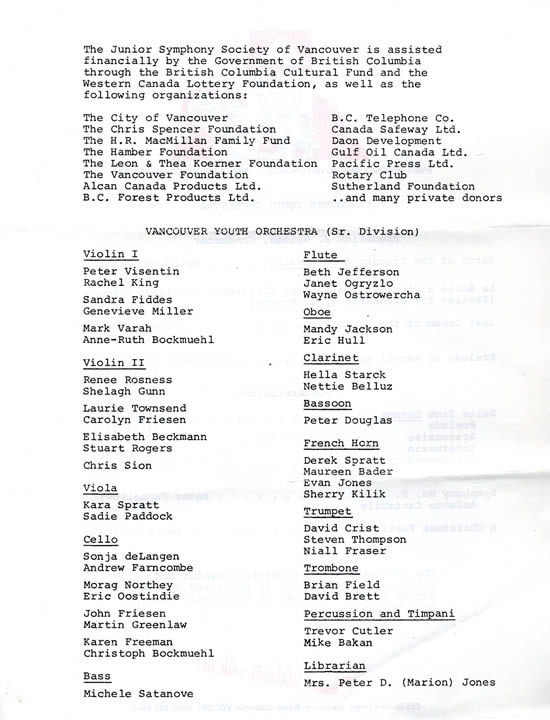 Click here to read this, and another VYO pamphlet - 1978
The Comox Valley Philosophical Horn Society – 1973 (I am in the middle of the photo at the front):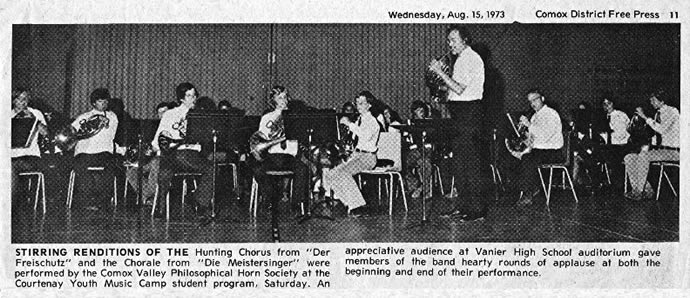 Click here for a hi res view of this news paper article
Bob totally spoiled me by accelerating my horn playing musical career in many ways. I was always the worst horn player in any ensemble he brought me into which helped me become a better musician. When there was a VCC stage band, he got them to write parts for horn and would place four of us in there playing hot stage band music. When there was a senior orchestra playing at CYMC, I was given the assistant principal horn position along side fifteen other horn players for production of Mahler's 3rd Symphony.
But, like getting good marks in school, being Bob's little pet horn-playing student caused some friction with other horn compatriots – students like Evan Jones who was a very close friend of mine. At CYMC, Evan and the other young horn players sat with the junior orchestra in the morning while I played in the afternoons with the senior orchestra. I was invited to the senior horn playing workshops and they weren't. This placed me at odds with my friends who were actually pretty good musicians and closer to my age.
Like my high school musician friends, many of my youth orchestra and CYMC pals became professional musicians. I was pretty hooked on music but by the time I made it to the end of high school, I was torn between music and engineering school.
In the summer of grade eleven I had the good fortune to study under a famous horn player at CYMC named Philip Farkas (see his bio below). In addition to being the principal horn player for the Chicago Symphony Orchestra, he also played with the Boston, Cleveland and Kansas City orchestras, as well as being an instructor at the Indiana University, Northwestern University, Cleveland Institute, Kansas City Conservatory, DePaul University and Roosevelt University. He designed the Farkas Model Horn and a collection mouthpieces and wrote a book titled The Art of French Horn Playing that has been called the "bible of Horn-players."
I really enjoyed his stories about living the life of a profession musician – both as a soloist as well as a member in a world-class orchestra. He asked me what I was going to do in my adult life, whether I was going to continue with my horn playing professionally, and I asked him what I should do considering my depth of knowledge and interest in electronics and physics at the time.
Philip Farkas: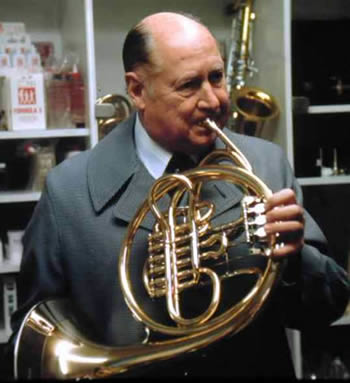 Mr. Farkas told me that a very good friend of his and one of his best students was Mr. Pickering of the Stanton-Pickering company – the very same company that designed and manufactured the world's best phonographic turntable cartridges (I owned one of them). Mr. Pickering faced the same dilemma thirty years earlier and opted for Electrical Engineering – while keeping horn playing and music as a hobby. I was suddenly sure of myself and of my future direction – I was going to continue with my musical interests while earning money through engineering. And it has substantially worked out that way for me as an adult. Looking back on it all I think that was a defining moment for me: I received excellent advice from the right person at the right time in my life.
I hope CYMC is still the world-class musical experience that it was when I went there (http://cymc.ca/). CYMC attracted students and instructors from all over the world and its concerts were truly amazing. The CBC would bring trucks that contained sixteen-track recording studios, and would tape visiting Russian cello and piano players as well as child protégés. We were treated to world-renowned guest conductors and jazz greats who put on improvisational workshops for the classical musicians.
For a period of time between grade five and grade eight, I had to practice close to two hours a day on my piano and French horn before dinner each night. After dinner came homework so I basically enjoyed little time for myself or my interest in electronics and other boyish hobbies. One of my solutions however, was to record my horn playing for one practice session on a tape recorder, and then play it back the next day while I read books and worked on other hobbies. It worked. Mom never caught me.
So I graduated from high school with a good academic grounding, an obsession with audio equipment and music, and some deep-seated interest in mechanical things. As an adult I'm delighted to report that I'm still wired the same way – these are the things that still make me happiest.
Queen's University - Dixieland & Jazz Bands, Solo Jazz Piano, Electroacoustic Compositions
My time in engineering school at Queens University was actually filled with a surprising number of non-engineering activities - especially musical ones. I played in a band through-out my time at Queen's, 'The Bad News Blues Band', as well as playing a number of solo 'Jazz Piano' gigs at local pubs and speak-easys. I also took several courses as part of the Queen's Music School, including History of Modern Music (B. Pennycook prof), 2nd and 3rd year Electroacoustic Music Composition courses (B. Pennycook, D. Keane profs), and a graduate course in Computer Music (B. Pennycook prof). I also replaced the standard 'Electrical' engineering badge on my engineering jacket with a 'Music' badge (and a 'Philosophy' badge as well - to be a rebel).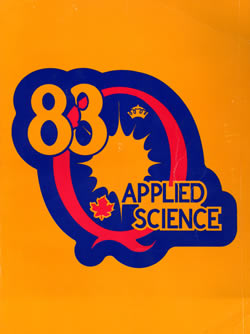 Click here to read the Queen's Science '83 Reunion Booklet
Solo Jazz Piano
Cheryl and I started to date on February 25, 1980 at Queens, and we went to a formal function together in March 1980 where I played the piano for a number of the guests: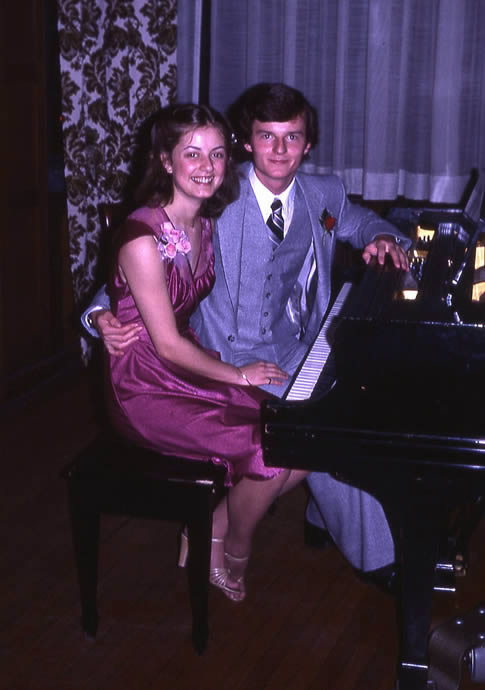 An ad in the Engineering rag 'Golden Words' - fall 1980: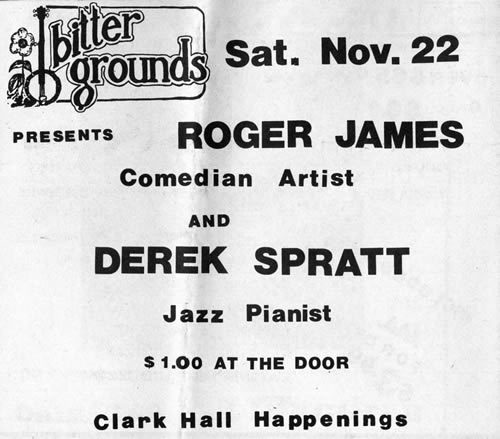 A banner from 1981: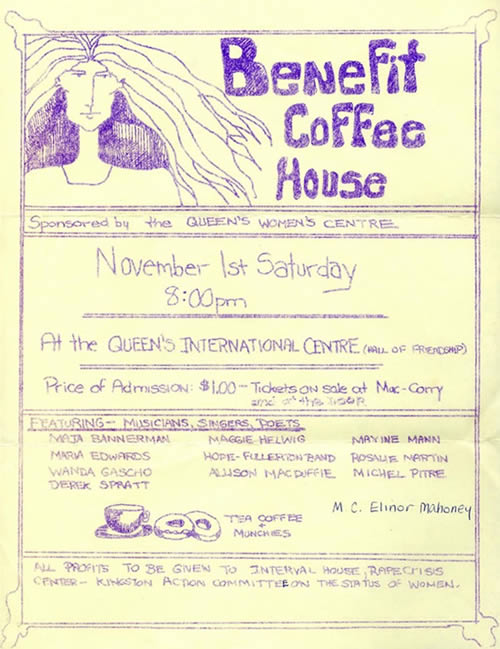 The Bad News Blues Band
Within a few weeks of arriving at Queen's, I struck up a conversation with a number of the other 1st year students and immediately decided to form a band together, that we christened 'The Bad News Blues Band'. Just like our Point Grey based 'River Bottom Jazz Band' before it, we played a lot together, at functions around the campus. It was a ton of fun.
Our wild and woolly performance at Leonard Hall - 1980: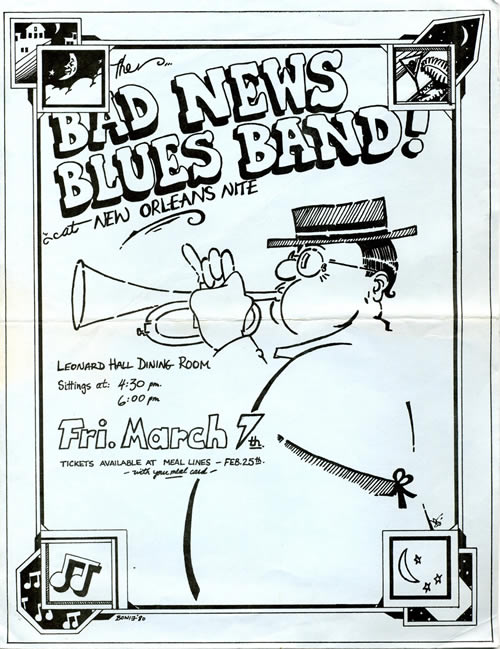 Click here to listen to the recording of this 'performance' - March 7, 1980 (39:16 min:sec, 37MB)
Our performance at Grant Hall - 1980: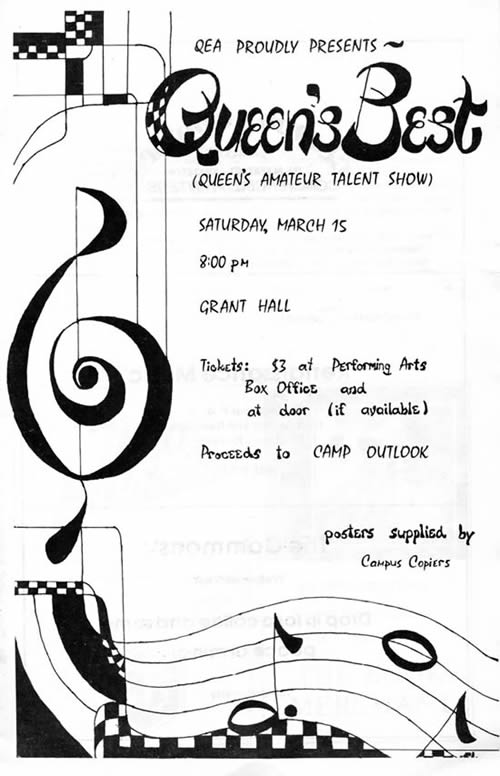 Click here to read the complete Queens's Best Program Guide - March 1980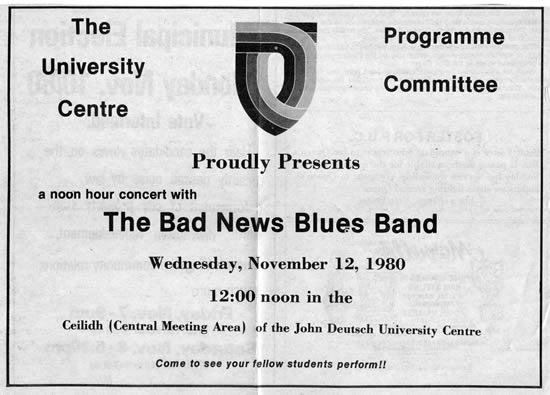 Electroacoustic and Computer Music Compositions
The late 1960s saw the introduction of electronic music synthesizers, which were quickly utilized on ground breaking rock albums such as The Beatles - Sergeant Peppers, ELP - Oh What a Lucky Man, and Yes/Rick Wakeman LPs, to name a few of pioneering artists and groups. By the mid 1970s electronic music was a mainstay of the pop music scene.
When I arrived at Queens in 1979 I quickly investigated the Music Department's electroacoustic studio and realized that I could take a number of elective course through that department while completing my core electrical engineering course load. My 2 Electroacoustic profs, David Keane, and Bruce Pennycook, encouraged me to create some pretty far-out sounding recordings (see below). It was really interesting work.
By my final year at school I was able to register for a graduate music/computer science course in computer music. There we studied artificial intelligence and neuroscience (how the brain processes/perceives sounds), while we wrote 'music' in a software language called 'C music' and recorded the results at 2am in the morning when the VAX780 mainframe computers were idle and could output our 'compositions' from the DACs (16 bit digital to analog converters) to analog 2 track reel to reel tape recorders - un-interrupted by other users and their disk access and CPU hogging applications.
I don't have any surviving recordings from this course because I managed to accidentally delete them just before they were to be handed in, causing Bruce to fail me (nice guy). I had pleaded with the IT administrator to recover my backups for me but he was too busy to get around to help me out in my hour of need. Given that it was an extra elective it didn't impact my graduation marks though.
In parallel with this computer music course, I took a 4th year electrical engineering digital signal processing course and hand built an IIR (infinite impulse response) digital filter board from discrete TTL logic - the wire wrapped board had about 50 ICs (integrated circuits) on it. I was really interested in the emerging field of digital audio and digital signal processing. This was during an era when the Queen's electrical engineering lab used Motorola 8-bit 6800 processors clocked at 667Khz (less than 1Mhz), with 1024 bytes (not Kbytes or Mbytes) of RAM and ROM.
I few years after this, Yamaha introduced the first digital synthesizer, the 12 bit monophonic DX-7, which I subsequently owned. By the late 1980s Motorola also introduced the ground breaking 56000 DSP (digital signal processor) - a chip that not only replaced my huge IIR filter board with one chip, but with infinitely more processing capability - the perfect solution for implementing digital audio projects with. We used it at Motorola for our RF modems to create software reprogramable modulation schemes.
When I graduated from Queens I attempted to secure employment in the DSP field, specifically in the area of acoustics and acoustical modeling, but I could not find suitable work (in 1983 there was a serious recession ongoing and only 9 of 110 members of my graduating class had secured employment by the end of our 4th school year - in contrast to the 1981 graduating class that had an average of 3 job offers per person).
Bruce Pennycook (below), along with David Keane (founder of the Queens electroacoustic studio), were my electroacoustic and computer music composition professors while at Queens (see their bios below):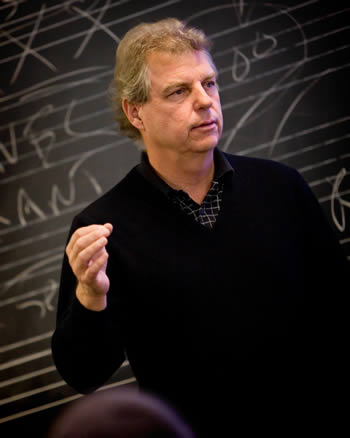 The Queens University MiniMoog Synth: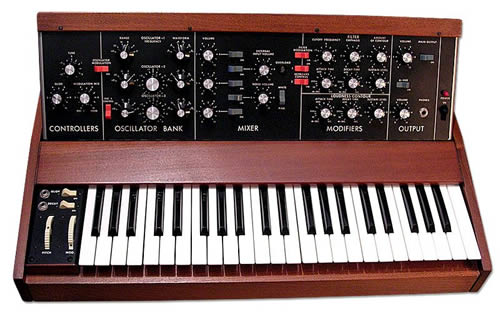 The Queens University ARP 2600 Studio Synth: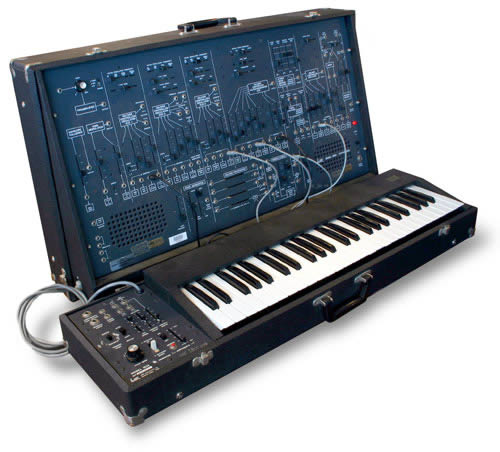 The Queens University audio patch bay that allowed for quick signal routing in the studio: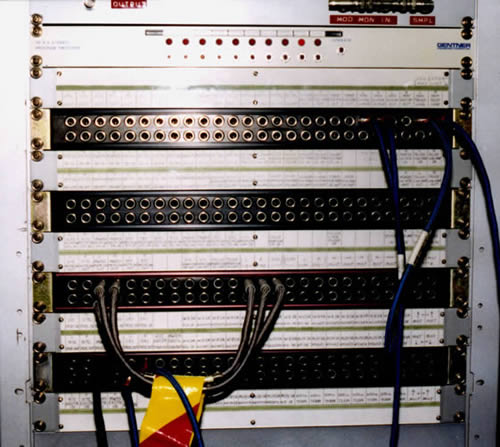 The Queens University Studer 2 Track Mastering Unit (I first 'multi-track recorded to a 4 Track unit and then mixed down to this unit):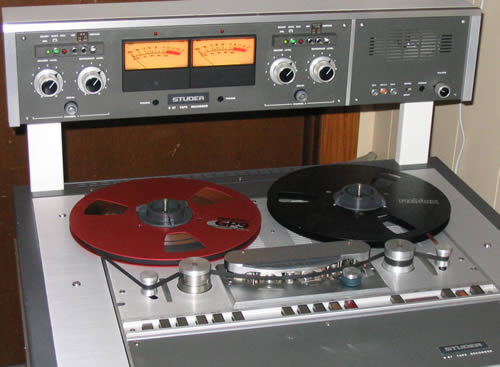 My Queen's University Era Electronic Compositions
Here are some of my electronic compositions that were created and recorded on the above equipment in the Queens University Music Department ElectroAcoustic ('David Keane') Studios (click to listen to):
Note: All audio is provided as Apple QuickTime files*

'Commencement' - 1982 (5:49 min:sec, 6MB)

'The Commies aren't that bad after all' - 1982 (5:56 min:sec, 6MB)

'Jan82' - 1982 (6:20 min:sec, 6MB)

'Reel 2' - 1982 (5:08 min:sec, 5MB)

'Reel 6' - 1982 (3:16 min:sec, 3MB)

Bulk ZIP File for download:

Right-click on the link below and select 'save link as' or 'save target as' (browser dependent) to download a ZIP file containing all 5 tracks listed above, as part of a single file that can be uncompressed back into a list of individual tracks that can then be imported into the iTunes media player application on your computer, and burned to CDs, etc. as required (once you unzip the files into a temporary directory, just drag that directory into your iTunes library and they will automatically be imported):

Queens U - Electronic Compositions - 1982 - Apple iTunes AAC files (ZIP file containing all 5 tracks, 24MB)
Post University Musical Activities
After Queen's I briefly played in a local Vancouver Dixieland Jazz band lead by Bill Dudlets (another Pt. Grey grad, 1975) from 1983-1985, and then I worked on a series of songs performing keyboards and handling studio mixing functions for Andrew Atkins 'unplugged' album in 1986. After that I let things slide far too much and didn't really play again until my own children were old enough to play themselves.
Andrew Atkins Unplugged CD (1986)
Andrew and I first met at his wedding to Colleen Cattell in 1983. They were in law school together, along with my wife (today Andrew is an industry entertainment lawyer, as well as inside counsel for Nettwerk Records). After their wedding, we were invited over for dinner at their apartment in Victoria where they cooked us a wonderful dinner and then Andrew played his guitar for us. We talked about music all evening and agreed right then that at some point in the future we would record an album together.
After law school was over, Andrew and I got together and rented all of the recording equipment we needed and installed ourselves in the basement of his parents house to spend a full week together making this album below (I played keyboards). It was a lot of fun. When Andrew turned 40 (many years later) I presented him with 40 CD copies of this remastered album in remembrance of our earlier musical exploits together.
The CD liner: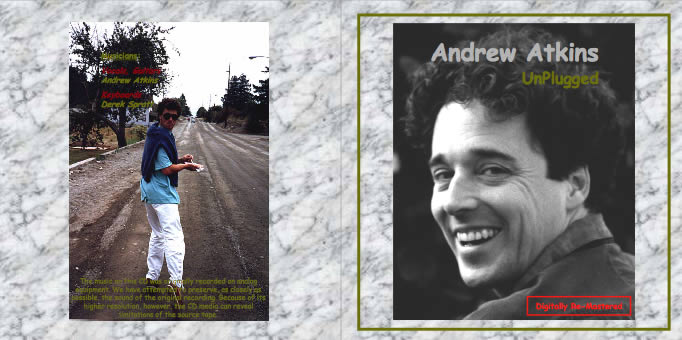 Audio Tracks:
Note: All audio is provided as Apple QuickTime files*
Track 1 - If I End Up Singing Blues (1:40 min:sec, 2MB)

Track 2 - Pretty Songs (2:02 min:sec, 2MB)

Track 3 - Maybe Its Time (2:30 min:sec, 2.5MB)

Track 4 - The Bomb (2:52 min:sec, 2.7MB)

Track 5 - Back Alive (2:50 min:sec, 2.7MB)

Track 6 - Bye Bye (2:53 min:sec, 2.7MB)

Bulk ZIP File for download:

Right-click on the link below and select 'save link as' or 'save target as' (browser dependent) to download a ZIP file containing all 6 tracks listed above, as part of a single file that can be uncompressed back into a list of individual tracks that can then be imported into the iTunes media player application on your computer, and burned to CDs, etc. as required (once you unzip the files into a temporary directory, just drag that directory into your iTunes library and they will automatically be imported):

Andrew Atkins Unplugged - 1986 - Apple iTunes AAC files (ZIP file containing all 6 tracks, 14MB)
From 2002-2004 I worked on Andrew Atkins' upcoming album in my home studio which remains a 'work in progress' at this time. I have also enjoyed countless hours in my music studio re-mastering and archivally restoring various music projects, as well as producing DVDs and related multi-media projects, such as this web site and the various content items herein. I also plan on re-joining the ranks of the musical performing world in the near future.
Track 1 - March 13, 2003 - Andrew Atkins Redux CD (4:05 min:sec, 3.8MB)
Tom Urban - Gone to Burlington CD (1988/2006)
Tom Urban is a member of my YPO forum and hails from Des Moines, Iowa and spent time in Montpelier, Vermont (near Burlington) where he recorded this album in 1988. I remastered it and transferred it to CD for him in 2006. His composition and playing style is quite similar to Andrew Atkins.
The CD Liner: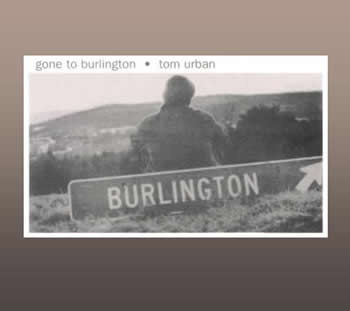 Audio Tracks:
Note: All audio is provided as Apple QuickTime files*
Track 1 - Love Affair With Music (2.6MB)

Track 2 - John's Song (2.7MB)

Track 3 - Mountain Song (3.1MB)

Track 4 - Where Do You Belong (2.1MB)

Track 5 - Byos and Prayers (3.1MB)

Track 6 - Carmen (3MB)

Track 7 - Gone to Burlington (2MB)

Track 8 - Middlebury Blues (2MB)

Track 9 - Dad (3MB)

Track 10 - Senior Panic-Junior Year (2.4MB)

Track 11 - Evergreen (1.4MB)

Track 12 - Ben and Jerry (1.5MB)

Track 13 - Empty Walls (2MB)

Track 14 - Twelve Yong Men (2.6MB)

Bulk ZIP File for download:

Right-click on the link below and select 'save link as' or 'save target as' (browser dependent) to download a ZIP file containing all 14 tracks listed above, as part of a single file that can be uncompressed back into a list of individual tracks that can then be imported into the iTunes media player application on your computer, and burned to CDs, etc. as required (once you unzip the files into a temporary directory, just drag that directory into your iTunes library and they will automatically be imported):

Tom Urban - Gone to Burlington (1988/2006) - Apple iTunes AAC files (ZIP file containing all 14 tracks, 33MB)
McGill University - My Fur Lady Musical LP/CD (1957/2006)
Tom Urban's mother, Mary Bright, went to McGill, and was part of the original My Fur Lady cast. He wanted to present her with a CD version of this LP in 2006 as a surprise gift. I remastered the original LP and transferred it to CD for him.
The CD Liner: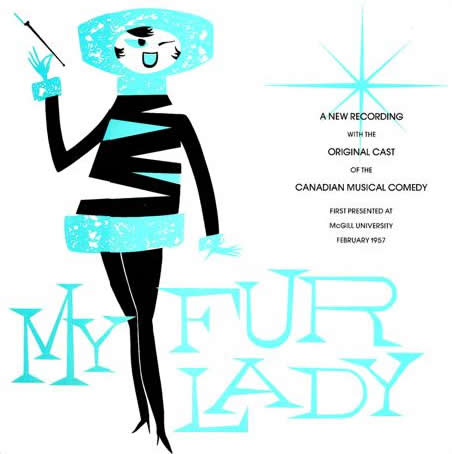 Audio Tracks:
Note: All audio is provided as Apple QuickTime files*
Track 1 (2MB)

Track 2 (1.5MB)

Track 3 (1MB)

Track 4 (2MB)

Track 5 (2.1MB)

Track 6 (3.5MB)

Track 7 (6.5MB)

Track 8 (3.5MB)

Track 9 (2.6MB)

Track 10 (1.3MB)

Track 11 (3.1MB)

Track 12 (2MB)

Track 13 (1.8MB)

Track 14 (2MB)

Track 15 (3MB)

Track 16 (1MB)

Track 17 (1.1MB)

Bulk ZIP File for download:

Right-click on the link below and select 'save link as' or 'save target as' (browser dependent) to download a ZIP file containing all 17 tracks listed above, as part of a single file that can be uncompressed back into a list of individual tracks that can then be imported into the iTunes media player application on your computer, and burned to CDs, etc. as required (once you unzip the files into a temporary directory, just drag that directory into your iTunes library and they will automatically be imported):

McGill U- My Fur Lady LP/CD (1957/2006) - Apple iTunes AAC files (ZIP file containing all 17 tracks, 39MB)
Personal Journal Notes on Musical Topics from my Elementary School Days
On my interest in Music (written November 2, 1973):
I think music is one of the greatest things in the world. I play the French horn and piano. There are great advantages to playing a musical instrument. You can play in groups and you can go to music camps like Courtney Youth Music Camp. I went to CYMC this summer and last summer. Some of the teachers at CYMC are the best in the world like Robert Barrows (French horn) and Ray Still (Oboe).

The hardest thing about playing an instrument is learning to play it. I practice three quarters of an hour on horn and the same on piano. Usually, when the student starts the instrument he is really keen. Then, after a few weeks his (or her) ambition dies down. Why most students quit after a while is because after a while it gets hard and in order to improve at all you have to work very hard. Most kids can't hack it.

Last June I took my grade six piano exam. The worst thing about it is that you work for months and in six minutes its over. For your grade six piano exam you have to prepare three tunes (memory), scales, studies (two). The teacher will give you ear tests and sight-reading. Your mark is out of 100 and everything counts. I had a young Russian teacher named Boyanna Loyich. I got honours but my teacher said she marked too hard. The Royal Conservatory of Music rates like this: 80-100 first class, 70-79 honours, 60-69 pass, below 60 insufficient to pass.

I have four music lessons a week (two theory lessons, a piano lesson and a French horn lesson). I also have Junior Symphony practice on Saturdays. My advice to anyone that wants to play a musical instrument is to be prepared for lots of hard work. It sure is hard on yourself when you're playing a musical instrument and you see your friends playing hockey on the road, but its fun playing with other kids.

On my VYO performance with the VSO playing Overture 1812 by Peter Tchaikovsky (written December 15, 1973):
Peter Tchaikovsky was a Russian composer. He usually composed rather sad music but he also wrote some spirited music, as in the Overture 1812. People usually think of an overture as being an introduction to something, but it may also be entirely independent.

When I played my French horn in the Queen Elizabeth Theatre, Akiyama conducted us in the 1812 Overture.

In 1880 Tchaikovsky was invited to write an Overture for the opening of a cathedral in Moscow, to celebrate the remembrance of the Russian victory over Napoleon. He did not stick to the exact order of the historical events, but created through his music a general impression of the battle, with prayer, fighting and the joy of victory. Napoleon's army is represented by the theme based on the "Marseilles". This is finally overpowered by the hymnic melody of the prayer with which it opened. At the third theme Tchaikovsky introduced the wedding song "At the gate, the homeland gate" (flute and clarinet). In the final part you hear bells, the hymnic theme of the prayer with the Czar's Hymn in the bass.

We played it without a chorus, but Tchaikovsky originally planned it with a chorus, large, orchestra, bells and cannon fire. Don Adams (the percussionist from the Vancouver Symphony) used a recording of a cannon at the end of the 1812 Overture at the Sunday performance, but he fired a twelve-gauge shotgun several times at the Monday night performance. He didn't tell any members of the symphony he was going to do it, and we were all shocked. In fact a clock fell off the wall at the back of the stage when he fired the gun (15 times at least), and a lot of the symphony members say he should be fired for not warning the players. Mr. Creech said some of the players were having hearing problems two days later. Oh well, the 1812 Overture was fun anyway.
On my prior summer experience at CYMC (written February 22, 1974):
Courtney Youth Music Camp is a music school that is on Vancouver Island in the town of Courtney. You board in a high school and you sleep in dormitories. Since this is a Senior Secondary High School they have a large cafeteria with a kitchen. The auditorium is huge and it is equipped with: ropes that hang from the ceiling; bleacher balconies that pull out from the wall on the side of the gym; eight basket ball hoops that come down from the ceiling; and a huge retaining wall that comes from the wall at the touch of a button and cuts the gym in two pieces for small concerts; an electronic score board on each side of the gym; a large stage (almost twice the size as the one Kerrisdale School); cupboards that have equipment for almost any kind of sport; foam mats; a big grand piano; and apparatus bars. Beside and joined onto the gym are a series of study rooms and two washrooms for men and two for women. Both washrooms contain large and modern looking shower rooms. This building is separated from the rest of the school.

This year and last year the directors of the camp was Mr. Creech (my French horn teacher). Many famous musicians come to the camp to teach and perform in concerts. This year an oboist Ray Still (the best in North America) came with a French horn teacher that was very good and a trombone teacher from the U.S.A. You can almost get a lesson for any instrument.

The wake up bell goes at 7:15 in the morning and breakfast is from 8:00 to 9:00. Music lessons start at 9:00 am at 10:25 there is a short break. Lunch is from 12:00 to 1:00. At 1:00 the lessons start up again and they last until 2:30. From 2:30 to 5:00 is recreation time and you can do swimming, gym activities, horseback riding and tennis on the courts etc. Dinner is at 5:30 to 6:30. At 7:30 there are concerts performed by the students. At 10:00 the kids thirteen and under go to bed. The older kids (14-18) go to bed at 12:00.

There are two symphonies: the junior and the senior orchestras. There is also a wind ensemble, and junior band and senior band. You can stay at camp for two weeks to five weeks. The first two weeks are for private lessons only. The next two are for anyone and the last week is for senior students. This year it's going to be a little different. The camp is pretty serious and they don't want to work. Two people were kicked out of the camp for possessing drugs. You won't gain anything at camp if you fool around. A few people went home because they didn't do anything. You are pretty much on your own at C.Y.M.C. and you have to be pretty mature to get anything out of it.
On going to the Canadian Festival of Youth Orchestras - part 1 (written April 5, 1974):
Since I am going to Banff with the youth orchestra of Canada I had to do my homework and work ahead on my schoolwork during my break.

Just after the holiday had started, I went night skiing with Martin Behr on Grouse Mountain. We got there at 6:00 pm. We skied the Blueberry chair lift. We stopped skiing at 10:00pm and got to the bottom of the chair lift at 10:30pm. As soon as we got off the gondola I heard three screams and three male streakers ran by us. Martin and I ran after them and we cornered one of them behind a large garbage can. Just after that my parents picked us up. Seeing the streaker made the evening more than worthwhile.

Another thing I did during the break was practicing with our chamber groups. Mrs. Brown was very helpful. She had music for everyone but Tony so Tony played some of the harp parts. It's beginning to sound pretty good.

Once my Sense and Feeling project was finished I went over to Browns and we did sectional rehearsals together. We also had several symphony rehearsals during the week and I worked on my model airplane as much as I could.

On Sunday our family went to Whistler Mountain. The skiing was fantastic and I skied on Harmony Bowl, G.S., Dads Run, Franz's, Lower Franz's, Gondola Run, and Whisky Jack to warm up on. The only things that spoil Whistler are that the Round House is far too small and the parking lot is a terrible muddy mess. If you can stand that, it's the best skiing around.
On going to the Canadian Festival of Youth Orchestras - part 2 (written April 30, 1974):
The Canadian Festival of Youth Orchestras was when all the youth orchestras across Canada went to Banff, Alberta to the Banff Centre School of Fine Arts buildings. Vancouver's Youth Orchestra was lucky enough to be invited and there was only a fifty-dollar charge per student for two weeks including transportation because it was sponsored by the Canadian Government. It was a bargain.

On the way there:

Everyone in the orchestra was told to be at the C.M.S. (Community Music School) at 8:00am Tuesday morning. Unfortunately the bus was not there until 9:30. This bus was a Grey Hound. There were 35 students in our group.

The first stop we had was in Hope. We stayed there for 15 minutes. Our next stop was in Princeton where we ate our bag lunches. We arrived at Penticton at 4:30. There we were met by our billets. We were taken to their homes where we had dinner. We also had breakfast with them. Then I was taken to a high school at 8:00am where we player our concert. After that was over we said "good-bye" to the billets and went to a restaurant where we had lunch. At 1:30 we got on the same bus and left Penticton. Shortly before Banff we stopped and had some dinner at an A&W restaurant. Our group arrived at the Banff Centre at 11:30pm. After unloading the bus, we went to the office, got our nametags and folders with all the information we needed.

While we were there:

I got the key to my room and unpacked my suitcase. About 12:00pm I looked out my window and saw three deer. There was only one other person sharing my room. F. horn too.

For the next few days we practiced the pieces of music that we were going to play at a concert under guest conductors. Every orchestra had to play a concert one night of the week. When it was our turn to play, we were conducted by Janos Sandor from Budapest, Hungry. Our concert was a success. After all the orchestras had finished playing, people from all the orchestras were chosen for a festival orchestra of 130 musicians. I wasn't chosen. On the last day this orchestra played. Unfortunately, I fell asleep during the concert, so I don't know how good it was.

During the week we had some time off so we could have recreation time. One time I went to the Banff Hot Springs pool. Some of the other times I went downtown to look around. The teachers were excellent. A famous brass quintet called "Canadian Brass" was on the faculty. They included trombone, French horn, two trumpets, and a tuba. There were also very good teachers for the woodwinds, strings, and percussion. The four guest conductors were Mr. Sandor from Hungry; Victor Feldrill from Toronto; John Carerue from Britain; and John Avison from Vancouver.

After all the orchestras had finished playing we had a party and a dance. One good thing was that the food was great. This is how my times tables went: 7:00-9:00am Breakfast; 9:00-11:30am Rehearsal; 11:30-1:30 Lunch; 2:00-5:00pm Rehearsal; 5:00-7:00pm Dinner; 7:00-8:30pm Rehearsal; 9:00-10:00pm Concert.

On the way home:

On the morning of the 20th we left Banff and started for home. Just before we left we gave our conductor a bottle of Champagne. We stopped in Revelstoke for 30 minutes to have lunch. At about 3:00pm we arrived in Kamloops. After dinner we have a concert. Then we met our billets. After breakfast we left on the bus and arrived in Vancouver at 4:30pm.

Four unfortunate things that happened to me were that I lost my wallet somewhere on the way to Banff, so I was short of spending money, my horn was damaged. I also got a cold and was over tired.
Biographies for some of the key influential figures in my musical life
Robert Creech:
French hornist, teacher, administrator, b Victoria, BC, 26 Sep 1928; BA history, music (British Columbia) 1954, MA history (British Columbia) 1974. He studied at the University of Manitoba, with Mason Jones at the Curtis Institute of Music in Philadelphia, and at the University of British Columbia. He was first horn with the Victoria Symphony Orchestra 1944-6, the Winnipeg Symphony Orchestra 1949-52, and the Vancouver Symphony Orchestra 1946-8 and 1958-74; second horn with the TSO 1952-5 and CBC Symphony Orchestra 1955-8; principal horn with the CBC Vancouver Chamber Orchestra 1958-76; and a member of the Vancouver Woodwind Quintet 1968-76. He has performed widely as a soloist in Canada and the USA.

Creech was a member 1959-76 of the music staff at the University of British Columbia, was music director 1970-85 of the Courtney Youth Music Centre, and was founder and first chairman 1973-6 of the music department of Vancouver Community College. He was chairman 1967-9 of the music committee of the Community Arts Council of Vancouver, during which period the committee planned and implemented the establishing of the Community Music School. of Greater vancouver (Vancouver Academy of Music). He was a director 1975-9 of the Canadian Music Council and chairman 1976-8 of the Arts Advisory Council of the Canada Council.

Creech taught 1976-89 at the University of Western Ontario and was chairman of the performance dept 1976-82. He was asked by the RCMT in 1986 to prepare reports on academic programs and administrative possibilities, and then was its vice-principal 1987-91. He was appointed the chief executive of the Royal Liverpool Philharmonic Society in 1991. He and G. Campbell Trowsdale wrote the report Orchestras Ontario (Toronto 1988) for the OAC and also the report Independent and Affiliated Non-profit Conservatory-type Music Schools in Canada (Ottawa 1988) commissioned by the CM Council. Creech has recorded with the Baroque Strings, the Vancouver Woodwind Quintet, and the Purcell String Quartet.
Philip Farkas:
Philip Farkas (March 5, 1914 – December 21, 1992) was principal hornist in the Chicago Symphony Orchestra for many years; he left in 1960 to join the music faculty at Indiana University Bloomington. He wrote The Art of French Horn Playing which is considered by many to be the seminal work for horn players. Other books that he wrote include The Art of Brass Playing, The Art of Musicianship, and A Photo Study of 40 Virtuoso Horn Players' Embouchures. Nancy Jordan Fako has also written a biography about his life: Philip Farkas and His Horn - A Happy, Worthwhile Life. Later in his life he helped design the Holton Farkas horn.


On March 5, 1914, Philip Farkas was born to Anna Cassidy Farkas and Emil Nelson Farkas. While his parents were ignorant to music, his mother encouraged him to take piano lessons; this was Farkas' first introduction to music. Around the age of twelve his Boy Scout troop needed a bugler, so Farkas volunteered for the job. He sought tutoring from a neighbor who played the trumpet, and soon became very good. Around the age of fourteen he started to develop asthma, his parents thought it would be best if he played a wind instrument. The school only had a bass drum and a tuba available at the moment, so Farkas choose the tuba. Having to take a street car to school, because of the tuba's size, the conductor began to complain that it took up too much room. Farkas asked him what instrument would be more convenient and the conductor pointed to a French horn case belonging to a band that was on the street. Soon after Farkas and his father went to downtown Chicago and rented a Schmidt French Horn for three dollars a month.

After playing his horn for a while he fell in love with it and decided to peruse a profession as a horn player. Before he finished high school he was already a member of the All-Chicago High School Orchestra (and the youngest player to join), First horn player in the Chicago Civic Orchestra, and first horn in the Kansas City Philharmonic; this was his first professional job as a horn player. He has accomplished playing first chair in the Chicago Symphony, Boston, and Cleveland orchestras as well, being the only horn ever offered the solo horn positions in these five major orchestras and the youngest principal player in the Chicago Symphony Orchestra. Farkas was also a music Professor; he taught at Indiana University, North Western University, Cleveland Institute, Kansas City Conservatory, De Paul University, and Roosevelt University. He also held many clinics and performed as a soloist nation wide. Farkas founded a publishing company; Wind Music Inc… He received a doctor in music presented by Eastern Michigan University in April 1978.

He is very well known for designed a top selling French horn along side the Frank Holton Company (which is still the top selling to this day) as well as a large selection of mouth pieces. He had published four best selling books to help French horn players, brass players, and all musicians improve in the art. His first book: The Art of French Horn Playing, is nick-named the bible of French horn players. It is well written to help a blossoming musician to even a professional horn player improve.

Farkas was known to have a kind cheery personality, and was very much a perfectionist. He made a big impact in the world of music as well as many lives along the way. He continued to practice his horn every day until his death bed on December 21, 1992 at the age of 78. Although he was probably the best horn player to ever walk this earth, his spirit and legacy continues to thrive through every life he has touched and changed.


"…It is my desire to create such a book, containing not only the findings of my own years of experience, but that of my teachers, which prompts me to write so complex a subject as horn playing. But, if some day I might hear a solo beautifully played and would hear the soloist say afterward "Your book helped me do that," I would feel repaid for my effort a hundred times over" -Philip Farkas, The Art of French Horn Playing
David Keane:
Composer, teacher, bassist, b Akron, O, 15 Nov 1943, naturalized Canadian 1974; B SC music education (Ohio State) 1965, B MUS (Ohio State) 1965, M MUS composition (Ohio State) 1967. He studied piano with George Haddad and double bass with Theron McClure 1961-5, Robert Meyer 1968-70, and Allan Molitz 1971-2. He moved to Canada in 1967 and taught music in schools, played double bass 1969-70 in the Vancouver Symphony Orchestra, and instructed 1969-70 at Simon Fraser University. In 1970 he was appointed to Queen's University to teach composition and double bass. He founded the university's Electroacoustic Music Studio in 1970 and remained director of it until 1997. His book Tape Music Composition (London 1980) is an important study of the aesthetics and technology of electronic music. He has written many articles and reviews about music technology, pedagogy, and aesthetics for CME, Computer Music J, CUMR, Musicworks, Queen's Q, and other journals.

Keane has received many commissions from Canadian and European organizations and has traveled extensively in Europe and North America to deliver papers and to supervise performances of his compositions. He has used a wide variety of styles and media, and his prolific output ranges from works for traditional instruments to tape pieces and sound sculpture. His style was initially influenced by Hindemith, Bartók, Stravinsky, and early music (eg, Machaut). His interest in electronic music dates from 1963; much of his music involves electroacoustic aspects. After a brief flirtation with aleatoric music, his style became aligned more closely to minimalism, with highly concentrated melodic and rhythmic development. His music is a reaction against highly formalized structures and serialism; it evinces tonal centres but avoids functional harmony.

Keane is a founding member of the Canadian Electroacoustic Community and the Confédération internationale pour musique électroacoustique, a member of the CLComp, and an associate of the Canadian Music Centre.
Bruce Pennycook:
Composer, teacher, saxophonist, b Toronto, 5 Oct 1949; B MUS composition (Toronto) 1973, M MUS composition, theory (Toronto) 1974, DMA musicology (Stanford) 1978. He began his musical training with clarinet and saxophone lessons. Later on, he studied composition at the University of Toronto with Gustav Ciamaga, Lothar Klein and John Weinzweig, winning the Sir Ernest MacMillan Award/Fellowship awarded by CAPAC in 1973. He then went on to study musicology at the University of Stanford, Cal., under John Chowning and Leland Smith. Back in Canada, he taught at Queen's University (1978-87) where he founded a music and technology research centre. In 1987, he joined the McGill University Faculty of Music to teach computer music and the applications of electroacoustic techniques to live performance.

As a composer, he has shown an interest in a mixture of acoustic instruments and live electronics, as displayed in works such as Praescio I (1987), II (1988) and III (1988, recorded on 4-ACM 37-CD). Other compositions include If Carillons Grew Wings for tape (1975, recorded on Redwood ES-10) and Speeches for Dr. Frankenstein (1981) for soprano and computer-generated tape (recorded on Folk. FTS-37475). Pennycook wrote about the latter work in ' Speeches for Dr Frankenstein: an orchestral approach to music synthesis,' CUMR, vol 4, 1983.In 1987, the Kingston Symphony premiered a commissioned work, In Your Medium (1986) with soprano Carol-Lynn Reifel. As a saxophonist, Pennycook has performed in Canada, in the USA and in the Netherlands. He has published articles on computer music in specialized periodicals. He is a member of the CLComp and the Canadian Electroacoustic Community, and he is an associate of the Canadian Music Centre.
* Audio files are encoded in Apple iTunes/QuickTime AAC format (128kbits/s). If you do not have Apple QuickTime installed, you can download it from: www.apple.com/quicktime/download
If you are using a Windows PC running Internet Explorer, and you are having trouble playing web videos that don't conform to Microsoft's Windows Media Player file formats, then try a better browser that is free, standard's based, and very powerful - and one that works well with Apple QuickTime videos: Firefox. Download it here: www.mozilla.com/en-US/firefox/
Click here for a list of my projects (that include many music/electronic themes)
Click here for a description of my current/historical stereo/audio/recording equipment
Click here for a description of our current live music jamming setup