2014 Radical SR8-RX Intro & Photos
The fastest 'production' sportscar around the Nurburgring until 2017

Index of Project web pages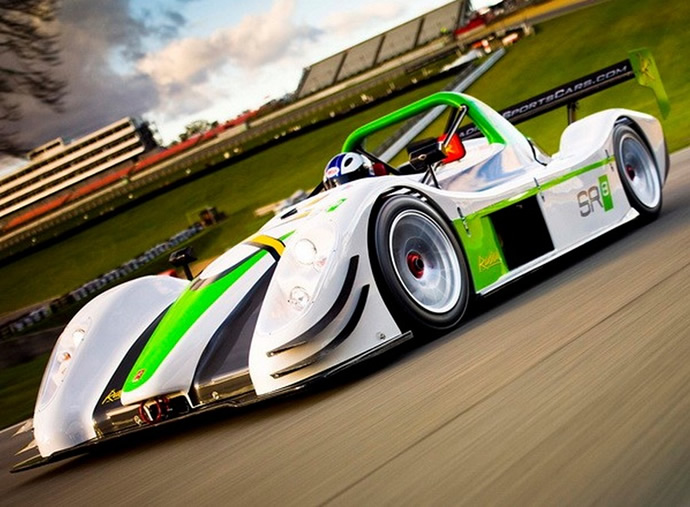 Ever since I first laid my eyes on a Radical SR3-RX at Vancouver Island Motorsports Circuit (VIMC) in 2016 I have wanted to own a Radical sportscar. When I learned of its more powerful V8 brother, the SR8-RX, I thought, well maybe that could be my future track car? Was it too much for me,performance potential wise? Was it too much to maintain and support without a partner and dedicated mechanics around to help out?
After running my little GTI around VIMC as a member for the 2017-2018 period I started to feel that there are natural limits to what a street car can/should do on a dedicated track and felt more and more that if I wanted to go further into the sport, a dedicated track car like the SR3 or SR8 would be a better investment than say a Porsche Clubsport or similar GT car would be - mid-engined, light-weight, relatively simple layout and ease of maintenance, downforce, ultra-high performance potential ... it all added up to the SR8 in the end. And with 2 seats entertaining my friends was a reality ...
Background on the Radical SR8-RX
The SR8 is basically the same car as the SR3 with the addition of 4 more cylinders and 2x the power at a cost of 150lbs of increased weight (as a result of the engine, transmission, oiling, cooling system and brake upgrades). The SR8 uses the same body/frame/electronics/suspension but with larger brakes and a Quaife transmission to mate up to the V8, which itself is a combination of 2 SR3 engines with a custom block, crank, and dry sump oiling system. The engine is based on the Suzuki 1340cc Hayabusa motorcycle engine, using its cylinder heads and rods with different pistons that bump compression from 12.5 to 14:1, upgraded cams, ported cylinder hears and a custom intake and exhaust system - these changes move up the Hayabusa spec power from 190hp to 220hp for the SR3 and 430hp for the 2680cc SR8 V8. The torque curve is very flat making this engine superbly linear. The additional cooling requirements add a second sidepod mounted radiator, a transmission cooler, and 300mm brake rotors (up from 260mm).
1490lbs, 430hp, 0 to 60mph in 2.7s, 2.5g Lateral/Braking G forces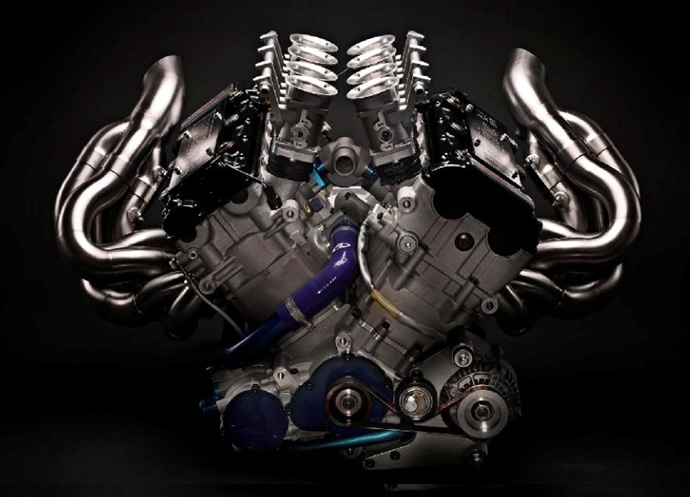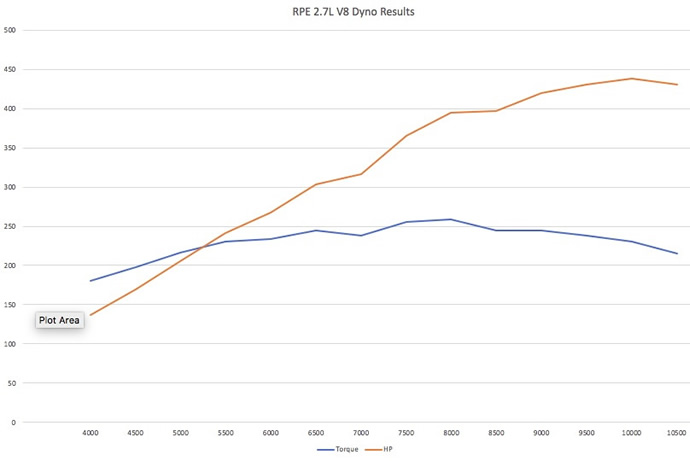 On a short/tight race circuit the SR8 is usually good for 2-3 seconds over an SR3 and on longer circuits the difference can be more significant, in the range of 5-6 seconds. But a hot-shoe SR3 driver can easily beat a less competent SR8 driver on many courses due to the more neutral handling balance and ability to late brake and typically carry more speed around the apex in an SR3. It is not that the SR8 cannot corner effectively, but it is a more intimidating driving experience that requires more care and attention on many levels: speeds are considerably higher on the straights; the rear-weight bias making trailing throttle oversteer an obvious issue; and the general agility reduction from carrying around 10% more mass.
For more background on the development of the RPE 2.7L V8, please read this 2009 article published in Engine Tech Magazine on Steve Prentice of SPD Ltd's sub-contract development work for PowerTec/RPE on this engine...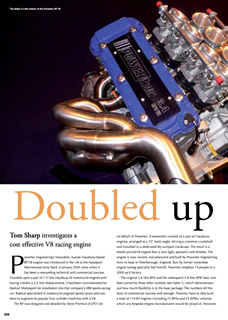 Engine Tech Magazine 2009 - PowerTec/RPE V8 Engine
Here are the full specs for the 2012 Radical SR8-RX ...
Engine
Radical Performance Engines (RPE) 2.7L V8 engine
Produces 430bhp 260lb/ft at 10,500rpm
Integral 4 pump oil scavenge system
2 oil pressure pumps & rotating vane water pump
8 butterfly fuel induction system
Composite ram-airbox
Integral bell-housing & engine oil tank
Stainless steel manifold & exhaust system with race silencer
Hot climate cooling system upgrade with large capacity radiators
Transmission
Paddle-activated, auto-blip, pneumatic gear-shift system
RPEP-Tec six-speed sequential transaxle, interchangeable gear sets with torque-biasing, limited-slip, reversing differential.
RPE transmission oil pump & radiator
Light weight steel flywheel & twin plate clutch
Chassis
Left-hand drive, two-seat, purpose built sportscar
Powder-coated carbon steel spaceframe chassis with integral safety cell, complying with FIA Safety Structure test
FIA compliant aluminum honeycomb front crash structures
Removable forward-facing steel chassis stays
Fully adjustable pedal box
FIA specification 20 gallon (77liter) fuel cell upgrade
Air jack system upgrade (incl. 3×airjacks, lance & hose kit)
Body
White six-piece lightweight gelcoat finish fiberglass bodywork
Owner name on side of cockpit
High-down force composite front diffuser with towing eye & central brake ducts connecting carbon composite brake shrouds
Removable, high nose, low-drag front section
Wheel arch louvers front & rear
Quick-release front cockpit fairing
Composite sidepods with air management system & radiator inlet
Composite side-skirts
Removable composite tail section with integral engine induction intake & ventilation grilles, brake & tail lights.
Clear rear light lens & colored blub upgrade
Carbon composite high-down force twin front dive planes
Carbon composite Le Mans style rear view mirror upgrade
Carbon composite high-downforce bi-plane rear wing
High-down force rear diffuser
Cockpit
Composite high-sided adjustable drivers & passenger seat
Driver & passenger FIA compliant HANS compatible seat-belts
Composite head restraint with FIA shock-absorbing foam
FIA shock-absorbing foam forward stay head protector upgrade
Manually activated FIA homologated 3-nozzle Zero 360 gas fire extinguisher system
Quick-release steering wheel
Carbon-composite dash surround
Dash-mounted brake bias adjuster
Electronics
AIM MXL data logger & LCD dash with 8Mb memory, 8 configurable inputs & G-sensor, warning lights, gear-shift lights, gear indicator and displaying engine parameters
Brake pressure sensor upgrade
Suspension logging upgrade
AIM SmartyCam with GPS in-car video module upgrade
Suspension
Fully adjustable Nik-link suspension system front & rear including unequal length top & bottom wishbones, fabricated uprights, forged steel centre lock hubs & interchangeable anti-roll links
Triple-adjustable bespoke mono-tube coil-over damper upgrade
Brakes, Wheels & Tires
Radical four-pot calipers front & rear 300mm dia, 48-vane floating disc brake upgrade, front & rear
Silver Radical centrelock cast aluminum wheels, 8"x15", 10.5"x16"
Dunlop bespoke slick racing tires, 200/580-R15, 265/605-R16
Dimensions & Weight
L 4200mm
W1800mm
H 1120mm
1490lbs
Index of Project web pages