Project "Ultimate 1983 Rabbit GTI"
Final Street Trim Conversion
Index of Project web pages
Project overview, goals & initial design specs
Project car initial condition
Chassis development
Bodywork & paint
Suspension, wheels, tires & braking system
Engine & transmission
Electrical & fuel system
Interior
Performance validation
Final street trim conversion
VW Vortex thread on this project
Videos
My original 1983 Rabbit GTI (owned 1983-1987)
The long road home
Right from the beginning of this project I had always intended to put some track time on the car to help wring out its full performance potential. Yes, extensive track time put stresses on the car and uncovered many small and large issues with the various systems, but it all served to harden up the design and make it much more reliable. And most importantly it showed that a 40 year old Mk1 GTI design, with the help from some tweaks here and there, could produce a car that not only exceeds the performance envelope of a Mk7 GTI or R spec golf, but also exceeds that of a Porsche 718 Cayman S. That is truly incredible stuff, confirming the initial project thesis that yester-year concepts of "small", "light", "simple", and "manual" (no power steering, no ABS, no stability control, etc.) could indeed produce a car of modern world class performance potential.
Kees Nierop, a former Porsche factory race driver, after experiencing the car on the track, said my GTI had strong brakes, excellent turn-in and neutral cornering manners, and a great engine that pulls strongly out of the corners and down the straights. He said the short wheelbase makes the car feel more nervous in the S curves than a modern car, but he feels the GTI offers an overall more immediate, real immersive driving experience, making it much more of a drivers car.
After Kees completed his track testing of the GTI, it was time to get this project properly completed, putting it fully back into a street car form, complete with its original interior and a more suitable street performance suspension and brake setup - performance oriented but liveable as a daily driver, complete with electrical AC and a great audio system and a long 5th gear for comfortable highway cruising speeds.
Street Trim Specs
The engine with its 12:1 compression ratio, 288 solid lifter race cams, racing independent intake system, and racing headers proved itself already as a perfect street/race engine setup with a smooth 1000rpm idle, easy cold or warm starts, gentle initial throttle response below 3500rpm, and lots of low end pulling torque from its long 95.5mm stroker crank and 2092cc displacement. Above 4000rpm the engine takes on a full-race engine personality with an extremely aggressive pull past 7500rpm, holding its 240hp peak horsepower to 8300+rpm. The engine is so strong in this 1900lbs FWD car that keeping your foot in it all the way thru 2nd gear and 3rd gear requires nerves of steel and a steady hand on the wheel as the car tries to follow road irregularities into other lanes or the nearest ditch. Engaging the nitrous system is only possible in 3rd or 4th gear as wheel spin is already close at hand without nitrous in 2nd gear. 1st gear is not a full throttle gear on street or race tires - there is simply too much torque. Applying the nitrous in 3rd gear is truly immersive as the car accelerates at 0.75g at over 125km/h up past 160km/h. Fun but frightening as well.
The only issue with the engine is the noise level: without the air box and filter assembly the ITB intake system is actually louder than the exhaust system - it is really loud. But thankfully the air box/filter system works very well at keeping the intake trumpets in check, and also keeping the revs below 5000rpm helps as well. The exhaust system has no mufflers in it - only 3 straight-thru racing resonators, making a deep and mellow sound at idle and part throttle, but it is fairly loud at full throttle in the higher rpms. Other than a typical 2800-3500rpm drone peak I would say the exhaust system is perfect for street use - with the longer 5th gear installed (see below) this may not end up being an issue for daily driving but if it is I will try putting the sport catalytic converter in place of the 1st resonator to see if it quietens up the system a bit more.
The 020 2Y transmission will have a 0.76 5th gear swapped in place of the OEM 0.91 5th gear, which when combined with its long 3.67 final drive ratio will bring 100km/h cruising in at just over 2500rpm which will be nice. The clutch is a bit of an issue as I had to go with the stiffest possible pressure plate and fairly grabby clutch material to keep it from slipping - the engine simply makes too much torque/power to hold otherwise (as I found out). I am used to the clutch and don't find it an issue on the street but a new-comer to the GTI would have to get used to a clutch with a stout pedal and firm gripping manners - it means business. I will be swapping out the Techtonics/4Crawler shift linkage system in favour of a SCCH Spherical Shifter Kit with USRT linkages - it should be make for very precise shifting but hopefully be very streetable and fun to use.
The close ratio R&P steering makes for an equally serious low speed turning effort, but again, once you are used to it you don't try and turn the wheel much before the car is moving and you mostly forget about it. And when in motion the steering is pure bliss - super direct and responsive. I will leave the HD/race R&P bushings in place as they don't seem to transmit harshness into the steering wheel.
I also plan on installing more sound insulation when the full OEM interior gets re-installed - at least under the rear seats and carpet/trunk area. The carpet at the front is glued down already and there is quite a bit of sound insulation up there so I don't plan on adding any more there.
The suspension had been upgraded for track use on racing slicks, pulling 1.3-1.5gs in the corners and during braking with racing disk pads. In the end I needed 440lbs/in front springs and 350lbs/in rear springs with the large rear sway-bar to achieve neutral/flat cornering on the track, with 3 degrees of negative camber using camber plates, but that is simply way too serious for the street tires and daily use. I will keep the Ground Control adjustable collars on the Bilstein racing struts and will start off with 275lbs/in front springs and 225lbs/in rears with 150lbs/in helper springs to give 3/4" of rear suspension travel at the softer spec before stiffening up. I hope to keep the car feeling neutral and sporty/responsive without being too harsh. The OEM Snowflake 14x6 wheels and tires have a lot of sidewall flex so there is limited benefit to be gained from running too stiff. I might have some fun and put on 15x7 wheels and tires if the car feels too lazy on the 14x6s but I am very fond of keeping the full OEM/stock look if possible. Ride height will be set moderately at 3/4-1" gaps on all 4 corners. I will be keeping urethane bushings in the front control arms, Delrin bushings in the rear trailing arms, and modified OEM HD front upper strut mounts (with windshield urethane added to firm them up and make them last longer) - the race camber plates are coming off the car - too harsh for street use.
The Tech-53 big 4 piston callipers and 10.1" front rotors will be perfectly mannered on the street with Hawk performance street pads using my large 25mm master cylinder. The super aggressive Hawk DTC-60 race pads that are dusty and eat rotors will be tossed into the trash and nice new rotors will be installed.
The interior will be totally stock looking but will hide electric windows, electric AC, variable heated seats, and a 1300w audio system complete with bluetooth and handsfree cellular, backup and forward cameras embedded in the rear view mirror (with outside air temperature), and my full Holley digital dash with its multiple screens of driver info and simulated analog gauges for that OEM look ...
So far I have pulled out the front suspension, control arms, axles, brakes, cylinder head and pistons, and have cleaned up the heads. I have new piston rings on order along with new valve stem seals for the head which should all arrive by end of January. In the mean time I will pull out the radiator and transmission and start on the 5th gear swap from the 0.91 to 0.76 ratio for improved highway cruising rpms - January 3, 2019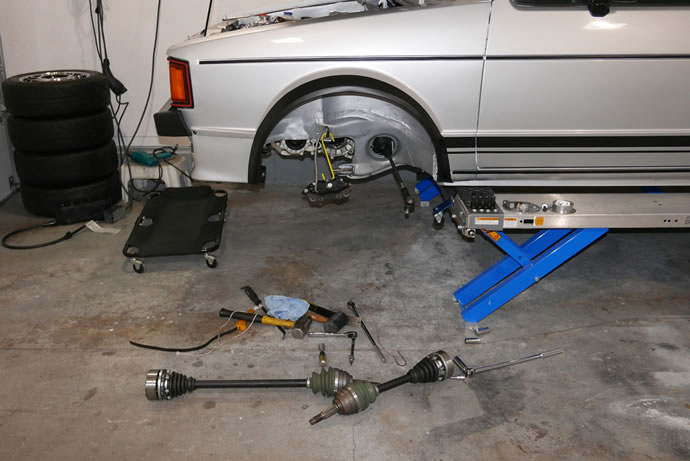 The new 275lbs/in front springs and 225/150lbs/in rear springs ...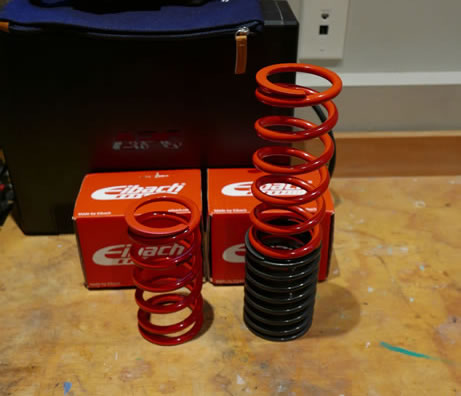 Using windshield urethane compound to strengthen/stiffen the Febi HD upper strut mounts ...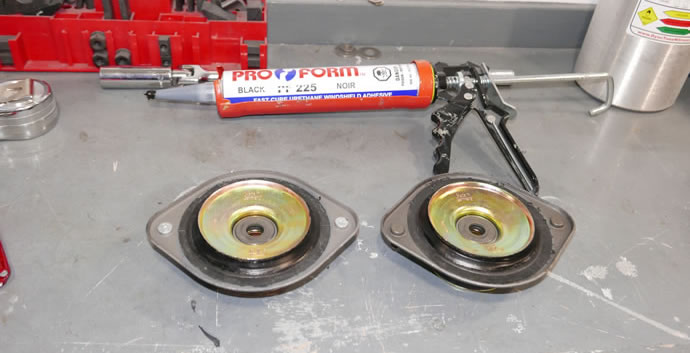 Restraining the 288 race cams from popping out of the cam brackets when disassembling ...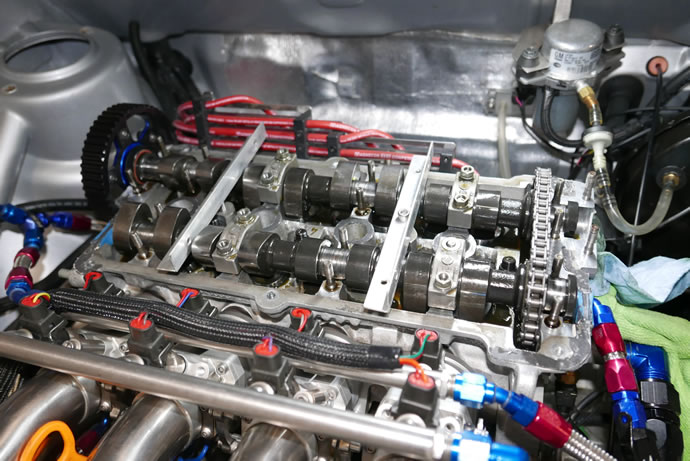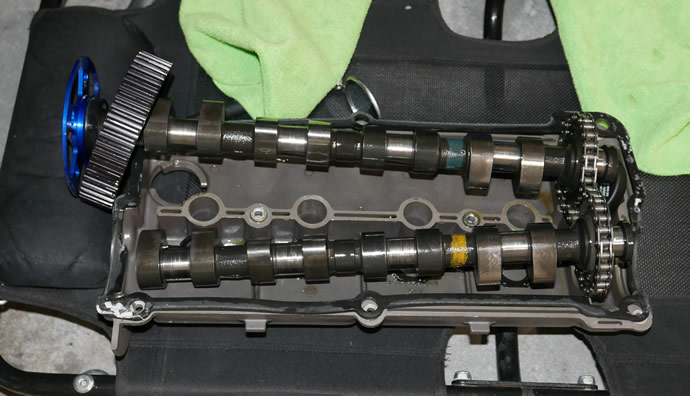 The cylinder walls and piston skirts look fine after lots of 8300rpm use (I was worried that revving the 95.5mm stroker crank/rods too high might cause excessive side loading and rod bearing wear - the rod bearings also looked good) ...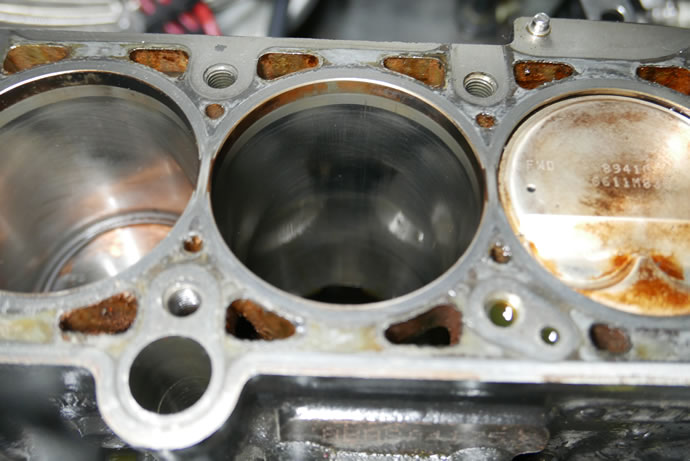 I soaked the head in degreaser at 140 degrees F for 4 hours then scrubbed and wire wheeled the intake and exhaust ports, combustion chambers, and valves, then re-polished the ports ...
Index of Project web pages
Project overview, goals & initial design specs
Project car initial condition
Chassis development
Bodywork & paint
Suspension, wheels, tires & braking system
Engine & transmission
Electrical & fuel system
Interior
Performance validation
Final street trim conversion
VW Vortex thread on this project
Videos
My original 1983 Rabbit GTI (owned 1983-1987)
Back to my Automotive overview and history page
Forward to my 1987 Ford Mustang 5.0 LX web page